3 Community Admin
Mark as New

Mark as Read

Bookmark

Subscribe

Email to a Friend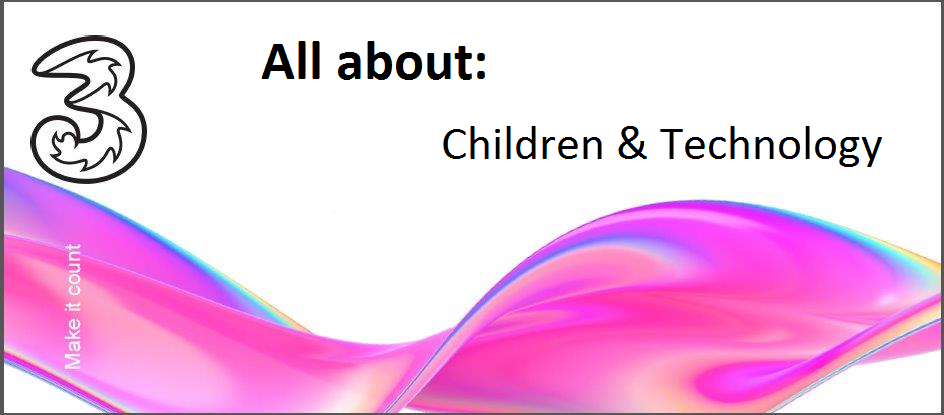 So, your little person just got their first smartphone – now what?
In the ever-expanding technical world that we're living in, it's no surprise that today's kids are getting their own smartphones at increasingly younger ages. Don't panic, it's completely natural for parents to worry about their children having a smartphone and what risks they face while using it. The good news is there are plenty of things that can be done to provide peace of mind.
Three's Internet Filter
At Three we want kids to be able to use their smartphones without the risk of stumbling upon inappropriate content. That's why all our Prepay phones come with internet filters, to limit access to material that may not be suitable for our younger users. Find out more about Three's Child Safety policy here.
As well as the aforementioned filter, there are a variety of apps that can help safeguard your child's phone.
In addition to these location-based apps, parents can also go as far as downloading a comprehensive parental control app, such as Norton Family (available on the App Store and the Google Play Store). With Norton, you can restrict children from using certain apps and using their phones at certain times, as well as tracking their location and monitoring their general phone usage. Another good one is Google Family Link (Again, this is available on Google Play Store and App Store, which will help set up those all-important digital ground rules like restricting screen time and setting a cut off time each evening.
Consoles
While phones are one of the most common devices to communicate with, online Chat on the many consoles available is rapidly growing in popularity, especially with the younger population.
Here are some tips to help you keep your child safe when playing on their console:
Xbox
Add an age restriction: Settings > System > Signed our console restrictions > enter Microsoft password > Access to content > select appropriate age for your child (this can vary per profile on the Xbox)
Customer the private settings: Privacy & Online Safety > Xbox Live Privacy > View Details & Customise. Select the settings that you feel are necessary for your child.
Passkey: Settings > All Settings > Account > Sign in, Security & Passkey > Change My Sign In & Security Preferences > Change my Sign-in & Security Preferences > Customise > Ask for my Passkey to make Purchases. This may save you quite a bit of money if you have your credit/debit card saved to your Microsoft account.
Playstation
Restrict Play Time: Settings > Parental Controls > Family Management > Play Time Settings > Play Time Restrictions. Set a time limit and stick to it.
Use Family Management: Settings > Parental Controls > Parental Controls/Family Management > Add Family Member. As you have set up the Playstation account initially you are the Family Manager so will have access to all Member account settings. Adjust these are necessary for your child.
Nintendo Switch
Parental controls: Create a Parent/Guardian account on your child's Nintendo Switch and download the Nintendo Parental Controls app so you can keep track of your child's usage.
Time Limit: Settings > Play Time Limit > Play Time Limit. In here you can set limits on playtime for different days.
Age Limit: Settings > Restriction Level > Select an appropriate level for your child.
Strangers Online
One of the biggest worries (if not the biggest) is how easy it is for kids to chat with strangers online whether it's on a phone, tablet, console or PC, or any other device. Here are some tips you can pass on to your kids to prevent this:
Do not accept friend requests from someone you don't know
Don't accept online messages from strangers
Never give your password to anyone
Never meet a friend you've met online in person
Don't give out personal information like your name, address or phone number
Never send photos of yourself to anybody
Other Practical Tips for Parents
Finally, here are some important and useful tips:
If your child receives any abusive or rude calls, messages or photos, keep a record of the time and date. Remind them to tell a parent or trusted adult and not forward these to other people.
Educate your child on Social Media awareness. Anything they post on social media can be saved by other parties, even if they go on to delete it later. If they use social media, ensure the social media profile is private and be mindful of everything they post and upload.
Before downloading an app, read the reviews. This will help you both decide if you want to go ahead and download it on your child's phone.
If you're worried about your child losing or breaking their phone, insure it. Any device can be protected against loss, theft, screen, and liquid damage, and more with Three SOS insurance.
Download 'Find my iPhone' or 'Android Device Manager' apps on your child's phone. These will come in extremely useful should the phone be lost or stolen.
It may also be worth investing in a hardy case for your child's phone. You can find a range of cases available in our Accessory store.
Useful Links
For further information on Three's commitment to child safety and responsible phone use, see here.
Have a question or want to add a tip? Pop over here to ask the Community. Remember to check out our blog on getting started here
You must be a registered user to add a comment. If you've already registered, sign in. Otherwise, register and sign in.