3 Community Admin
Mark as New

Mark as Read

Bookmark

Subscribe

Email to a Friend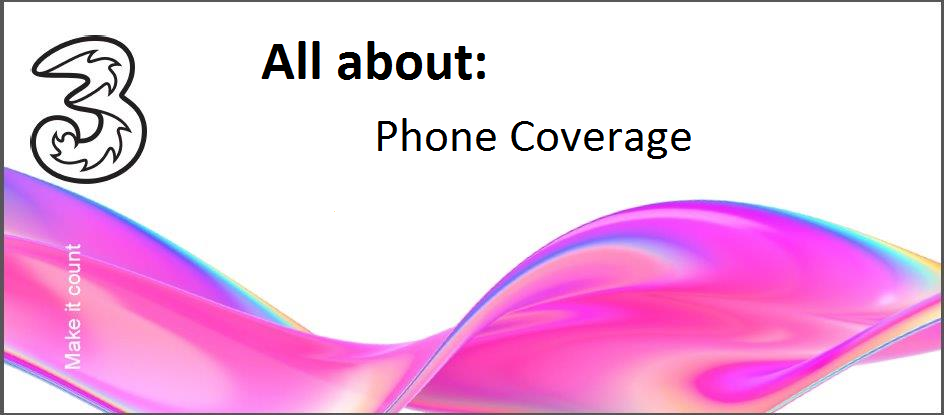 Here at Three we know how important your phone is to you and that includes the call coverage and mobile data signal. We are continually improving our network capabilities and strive to provide you with the best coverage possible. From time to time, you may experience difficulty with your coverage, this could be due to several factors, including external ones which are outside of our influence. Whichever the case may be, your 3Community is here to help! If you are experiencing any difficulties with your signal or coverage, have a look at the checklist below;
Calls/text and mobile data
This is an oldie but a goodie: Restart your phone
Another tip is to reset your network settings, this will also delete your saved WiFi passwords. ( Android/iPhone). Our DeviceSupport section will steer you in the right direction for this.
Your SIM needs updating every few years. Why don't you order a new one and activate a SIM replacement? Have a look at all you need to know click here
Are you still having coverage difficulties? Try your SIM in another Three phone or unlocked phone. If it works in another phone, your phone might be faulty and needs repair click here or you might need to update your software.
Mobile data only
Clear the browsing history on your phone through Chrome or Safari settings.
You may not have 4G in your area, so please switch to 3G only.
Need more help?
If the above steps haven't helped, there is a possibility that there is maintenance being carried out in your area, or a fault on the mast we need to investigate. Please get in touch to let us know that you've tried the above, and post the answers to the below questions by creating a topic:
Are your friends and neighbours experiencing this too?
Do you experience the same coverage everywhere you go?
When did you start noticing this?
Do you get a particular error message when making a call, sending a text or connecting to mobile data?
How many bars of coverage do you see, and what letter is beside them? ie, 3G, 3G+, H, H+, 4G or 4G+
Is your mobile data worse in the evenings or the same all day?
What phone are you using, and what version of software is on it?
Tell us your general area so we can check the masts there.
Pop the answers to the above in a new topic in our Phone section 👉 here. This way, your post is public for all to see, and other members in the same area can join in if they've noticed changes too. With the help of 3Community, the more examples and info we have to pass onto our tech team will be a huge advantage in identifying the root cause of any faults in the area.
If you have any suggestions on how we can improve this list, click here, and if this post has helped you, please click 'Like'!
Have a look around 3Community for other useful tips and tricks and check our getting started article too
6 Comments
You must be a registered user to add a comment. If you've already registered, sign in. Otherwise, register and sign in.