3 Community Admin
Mark as New

Mark as Read

Bookmark

Subscribe

Email to a Friend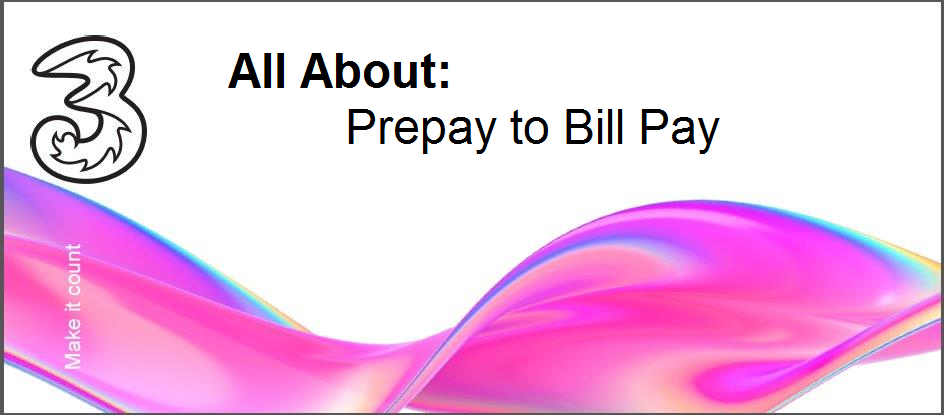 Are you currently with Three on Prepay and thinking about moving to a Bill Pay plan so you'll never need to worry about topping up again!? Perhaps you're not currently with Three but you're thinking about joining us on one of our fabulous plans . 3Community is here to help you take the first steps on your journey to never running out of credit, and never having to remember to top up every 28 days ! Let's check out some of our great benefits of being with Three on a Bill Pay plan 💪 👇
Tailored plans for more freedom
On Bill Pay, not only will you get the benefit of All You Can Eat Data, but you'll also get Unlimited Three to Three calls so you can chat when you want and where you want with other Three customers, for free!
Our plans are 5G ready or have optional add-on available on Ireland's fastest mobile network. Remember that your phone needs to be 5G enabled too, so look out for the little 5G symbol in our online shop. OnlineShop
You get an allocated allowance of calls to other mobiles and landlines as well as texts so you can use to connect with your family, friends and work colleagues without worrying about being charged.
You get to use your allowance of calls and texts plus a whopping data allowance (up to 23GB) while roaming in the EU and EEA countries. This means no more surprise bills after your relaxing holiday!
You have a variety of add-ons to choose from like our national or international calls, handy if you've used all your inclusive units or if of your loved ones are living abroad. Have a look

👉

here for the full terms of our add-ons.
.
Excellent value and rewards
We have family plan discounts

💪

You can add up to 6 plans to your account and save up to 20% each month.

💰

💰

If you're a tech lover or you just fancy a nice shiny new phone; then you can avail of this on Bill Pay without paying the full price! This will save you hundreds on the phone cost. In fact, some of our phones are free on Bill Pay. OnlineShop
You have a world of entertainment on your phone with All You Can Eat Data and all your favourite video, music and reading subscriptions all together on Three. Subscriptions
Exclusive rewards, offers & discounts and competitions with 3Plus. 3Plus Don't forget you can avail of PreSale tickets for gigs at 3Arena

🎵
Other Extras
You can do so much with My3 on Bill Pay, check your allowances, pay your bill, select an add-on and lots more. Check out our My3 blog for all the details

👇
Moving to BillPay means you are automatically on e-billing. Let's not forget the many benefits this

💃

. One of which is that it's great for the environment because of less paper waste and clutter. For more info have a look here All about: eBilling
We have four different Bill Pay plans for you to choose from. We have put a blog together to help you choose which one is best for you click here .It couldn't be easier to change from Prepay to Bill Pay once you've decided which one is best for you; choose your favourite phone and bill pay plan and enjoy the benefits of being with Three Bill Pay
Log into My3 on your app or through the website . Select 'Check Bill Pay Offers'.
You can also pop into a store, or avoid the queues by making an appointment at select 3Stores.

👉

here
Call us on 1913 and speak to one of our Customer Experience Experts
Even request a callback from 3Store Connect on the bottom right-hand side over here
Wondering what else you need to move to BillPay? Here's a handy list of blogs that will help you
If you've any follow up questions about moving from Prepay to Bill Pay or switching to Three, get in touch with us by joining 3Community and posting below 🙃
You must be a registered user to add a comment. If you've already registered, sign in. Otherwise, register and sign in.