3 Community Manager
Mark as New

Mark as Read

Bookmark

Subscribe

Email to a Friend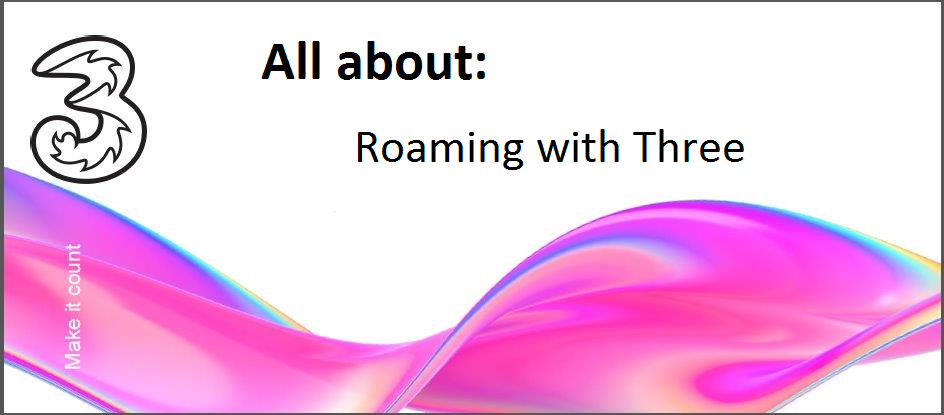 What is data roaming?
Data roaming is the term we use when you browse the internet on your phone while abroad. You use data every time you use the internet on your phone – whether you're checking email, browsing Instagram or streaming music.
When you go abroad for either business or pleasure, you'll usually receive a text informing you how much it'll cost to use data, call or text in that country. To make sure you're set up for roaming on your phone and to check the roaming rates where you're headed, read on.
Before you go
Travelling within the EU: Most of our plans include an EU data allowance. If you're not sure how much your plan includes, you can check your roaming allowance on

your My3 account, listed with your other allowances.

For more details on EU roaming and a full list of which countries you can use your EU data allowance in, check out

three.ie/roaming

.

Travelling outside the EU: Customers can roam in any country that Three has a roaming agreement in, but will be charged for all data use. Check out our international roaming rates

here.
When you arrive
Once you've touched down at your destination, turn your data roaming on:

For iPhone: Go to Settings > Mobile Data > Mobile Data Options, and ensure 'Data Roaming' is turned on.
For Android: Go to Settings > Connections > Mobile Networks > Data Roaming.
For Windows: Go to Settings > Mobile Network > Data Roaming Options.

If you're having trouble when roaming, check out our

roaming troubleshooting guide.
You can check your usage and allowance at any time on

My3

– on our website or on the app.
Need to top up? Use our

instant top up service

while abroad.
Worried about overspending?
Don't stress, because there is a default limit on data roaming which Three applies to all accounts unless you choose otherwise. The limit is €61.50 (incl. VAT) per monthly billing period. If you've questions about this data limit or wish to change it, simply get in touch with us by PM or webchat.
If you're visiting a country outside the EU and don't want to use up too much data, avoid watching videos, streaming and downloading large files. Where possible use Wi-Fi, and turn off automatic app updates. You can also turn off your data roaming completely.
For more info on Roaming, see our Roaming FAQs.
Have a question about roaming? PM a community mod and we'll help you out.
Ashling
Ashling is the 3Community's resident wordsmith. With a passion for social media, innovative technology and all things mobile, she fills the 3Community with articles about tech news, app reviews and tips and tricks to make your life a little easier.
You can contact Ashling here.
16 Comments
You must be a registered user to add a comment. If you've already registered, sign in. Otherwise, register and sign in.