Tutor
Mark as New

Bookmark

Subscribe to updates

Email to a Friend
Andre Rieu is coming to 3Arena!
His concerts are unique, his secret: The joy of music! André Rieu, together with his 60 piece Johann Strauss Orchestra and many international soloists, returns to the UK to enthuse fans with his humorous and a colorful new program. With 600.000 viewers per year, André Rieu´s world tours appear regularly among the Top 25 of the Billboard Charts, together with popstars like Cher, Depeche Mode, Bon Jovi, Miley Cyrus or Elton John.

For more than 20 years André Rieu has proved that his music doesn´t know borders and ages. In 2012 he played thirty concerts in Sao Paolo in only one year. Rieu was the bestselling artist in Australia in 2008, 2009 and 2010. His albums regularly reach the top 5 of the UK Pop Charts.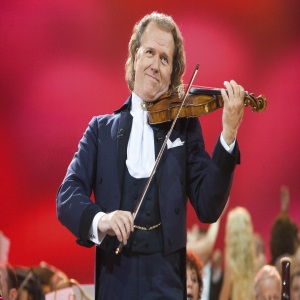 April 2016 marks the release of an exciting new compilation, André Rieu's album "Magic of the Waltz". In December André will finally be coming back to the UK on his brand new Arena Tour.

André Rieu: "Every night, everywhere in the world I invite my audience to get up from their seats and dance with us. I can't tell you how fantastic it is to see people from every continent waltz to our music, whether they'd be young or old. You will find every sentiment in a waltz. Happiness, joy, melancholy, and love. And last but not least, do you know that it is scientifically proven that waltzing is good for your health? A waltz a day keeps the doctor away!"

In 2016 André Rieu and his Johann Strauss Orchestra will perform in countries such as Germany, Austria, Denmark, Romania, Poland, Sweden, Netherlands, Australia and New Zealand, before finally returning to the UK.

André Rieu's Johann Strauss Orchestra is the biggest private orchestra in the world. He plays a Stradivarius from 1732. The fans can look forward to a completely new program full of the best known and most beautiful melodies of musical, opera, movie, world music, pop; many international soloists and for all the ones, who love to dance, of course, the world´s most romantic waltzes.
For your chance to get Presale tickets, check out this link: http://plus.three.ie/gig/details/445
Heading to André Rieu in December? Click 'Thanks' or comment below to let us know!