3 Community Manager
Mark as New

Mark as Read

Bookmark

Subscribe

Email to a Friend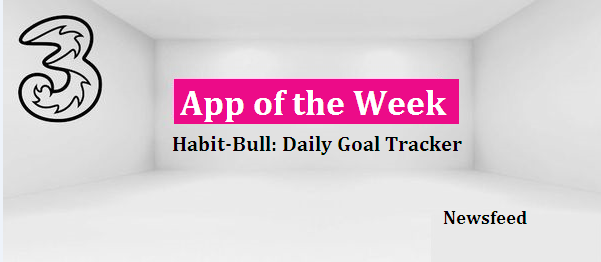 The term health conscious is something that gets thrown around a lot on a daily basis; at home, at work, at school, in restaurants and cafes to name a few. It's fair to say, this is something many of us struggle with due to the demands of our hectic lives! I'm one of those that struggle with it and often find I'm juggling so many balls, it's difficult to keep track of everything. If that sounds familiar, read on 😊
So I checked out a few apps that promised to support the adoption of good habits and to help keep their users on track. I've done the leg work for you and found the best one, by far, it's called "Habitbull".

What does it do?
The free version, allows you to set up a maximum of 5 habits. This is a good number, so you just have to decide what habits you want to create and I'd recommend choosing habits that you end up forgetting about because life gets in the way. This system works on "streaks", a visual of how many days you've been successful. For many, this visual is quite motivating and gives you a great sense of accomplishment.
Set up was a cinch and adding a habit to track couldn't be easier. Immediately I had the sense that I was going to be successful in all of my 5 Habits. The overall layout is clean and well-organised, presenting the colour-coded habits and calendar first, scroll down for an inspirational quote and to see your stats, which are also colour-coded.
Apart from the easy set up and the clarity of the layout, when you're adding a "habit" to track, it brings you through a logical set up. First the popular categories, then it gives you a few options how to track your choice. I opted in for a simple YES/NO. Give your habit a title and colour. Then you set your target date, and the frequency of action
The Benefits
Setting your own target date. This gives you a moment or two to reflect on a realistic time frame. The default is set to 66 days with a little note at the bottom saying "It takes 66 days to create a new habit ". You can extend or shorten this to your own comfort level, no pressure here!
Here's the best part of "creating a new habit"; it gives you the option of how often you intend to commit to your new habit; daily, on some days of the week ( list of days given) , or every other day, second, third and so on. How awesome is that? I know I won't go swimming every day, so I selected every 3rd day. It's working so far

👍

The fun factor and this app delivers! Between the daily quotes visible when in "All Habits", to the little quotes at the bottom of individual "fitness habits". The language is positive and reaffirming. The fun element is there, and more so apparent in the little reminders. ( reminders can be set up in the monthly view ) When the reminders come through they have little quirky phrases of encouragement, such as,
Gutentag Marvellous: Now do it
Salut Know-it-all: Make it happen
Ello tiger: Go for it.
I'm not expecting it to be life changing but I have the nudge I need to move me in the right direction. I've been using this app for 7 days now and have been consistent with 3 out of the 5 habits , which happens to be 3 more than what I would have been able to stick with without the app. Personally, I wanted more quirky reminders, which only seem to appear when the app is open.
I see the potential and the benefit of having a visual aid for how well the new habits are forming. It's early days yet, but the app lays a great foundation. Whether you find it helpful depends on how dedicated you are to the habit you want to create. They say it takes 66 days to create a habit, why not give it a go and if you do, I hope you find it as helpful as I did.
If you have any thoughts or feedback about this, just comment below and let us know.
You must be a registered user to add a comment. If you've already registered, sign in. Otherwise, register and sign in.