Tutor
Mark as New

Bookmark

Subscribe to updates

Email to a Friend
If you're here on a computer, you may have noticed a pop up survey at the bottom left hand side of your screen, which looks like this: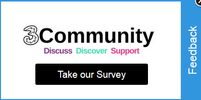 This is a survey about the community, which takes just 1 minute to complete. Whether your experience here has been good or bad, we'd really appreciate you taking a moment to fill out the survey.
Your feedback is very valuable to us, as it helps us to improve and let's us know if the changes we're making are working for you.
Thanks to everyone who has taken the survey already, and thanks in advance to those who are about to! 😄