3 Community Admin
Mark as New

Mark as Read

Bookmark

Subscribe

Email to a Friend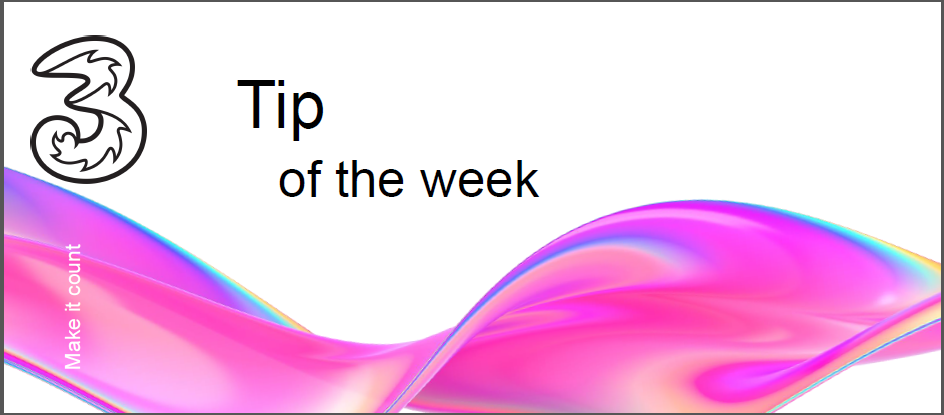 5 Tips for Working from Home
Due to ongoing concerns regarding COVID-19 (coronavirus), many of us are now working from home – or trying to! This is a new experience for lots of people, so we've put together a few tips below to help you work from home effectively.
Create a designated workspace
If possible, create a specific workspace in your home so you can 'leave' when you're off the clock. If you're lucky enough to have an office or a spare bedroom with a desk, this is ideal, as it gives you a place to work away from the busiest rooms in your house and your sleeping quarters. Create boundaries with your family or friends – for example, if the door is closed, that means you're very busy and should not be disturbed. Using headphones will also help with distractions.
Wherever you decide to work, ensure you have adequate lighting, a decent table and a comfortable chair. Natural light is best, and if you can open the windows in your home to let in fresh air, even better. Ideally, your computer screen should be in line with your eyes – this will reduce the risk of back pain.
Make the most of digital tools
Communication is key when remote working, especially during a pandemic when the news is changing constantly. If you're new to working from home, you may not be familiar with the wide range of digital tools available.
For team meetings with your colleagues, check out Microsoft Teams, Google Hangouts or Zoom – these all offer video conferencing facilities, making it easier to keep in touch.
Slack and Trello are two great productivity apps that help reduce email and assist with remote working. Slack allows you to create a single channel for your team to chat, upload files and manage projects. Similarly, Trello is a project management tool that allows workers to assign tasks and track progress in an easy and accessible way.
You can find lots more information online to help you decide what tool will work best for you and your team.
Create a routine – and stick to it
It's really easy to lose focus and get distracted while working from home, so establishing a routine is important. You should treat remote working as a normal day as much as possible – get up early, shower and get dressed as normal.
Work your regular office hours if you can - although if you're trying to mind your children at the same time, stagger your start times with your partner and create a schedule that works for both of you.
Make sure to take breaks– again, stick to your normal lunch schedule and step away from your desk from time to time every day. And don't forget to stay hydrated!
Stay active
It goes without saying that exercise is excellent for mental health, particularly in stressful times such as these. Take the time to get some exercise every day. If you can, go for a walk or run in the fresh air and disconnect from all your devices – while maintaining social distancing of course!
If you can't get outside, there are a huge variety of home workout videos on YouTube and Instagram. Whether you want a relaxing yoga class or an intense weights session, you'll find something you can do in your living room.
Keep the kids entertained
If you're trying to work from home with kids in the house (like many of our colleagues here at Three), you're probably wondering how you're going to keep them entertained. As mentioned above, tag team with your partner to split the parental duties where possible. If you can, create a routine for your children, as they will be used to this in creche or school. Happy kids, happy parents!
For younger kids, encourage them to get active by dancing, jumping and skipping – this is also a great way to tire them out! Colouring in and nature walks around the garden or local park (while maintaining distance from others) are two more great ways to keep them occupied. Educational TV can be a godsend – you can find lots of educational programmes on YouTube.
If your smallies are missing their school friends, try share voice messages with them or set up a video call, which can be great fun
For older children, encourage reading, as well as productive activities like arts and crafts, simple household chores (e.g. making the bed) and some basic baking. Who doesn't love rice krispie treats?
It's important for children to keep up with their schoolwork too – educational companies such as Edco and Gill are allowing free access to their online resources during the Covid-19 crisis.
Hearing the dreaded phrase 'I'm bored'? Give yourself a break – it can be good for kids to feel bored occasionally. This is the time when imagination and creativity can flourish.
Keep a family diary and talk about positive things that happened today and what the kids did for the first time. Kids love story time and often that's when you will hear about how they are feeling. Try and spend more time offline together and enjoy the downtime once you've switched off from work.
Hope you have found this useful, if so, give it a like ❤️️
Feel free to comment below with other tips you've found useful for working from home 😊
You must be a registered user to add a comment. If you've already registered, sign in. Otherwise, register and sign in.