3 Community Manager
Mark as New

Mark as Read

Bookmark

Subscribe

Email to a Friend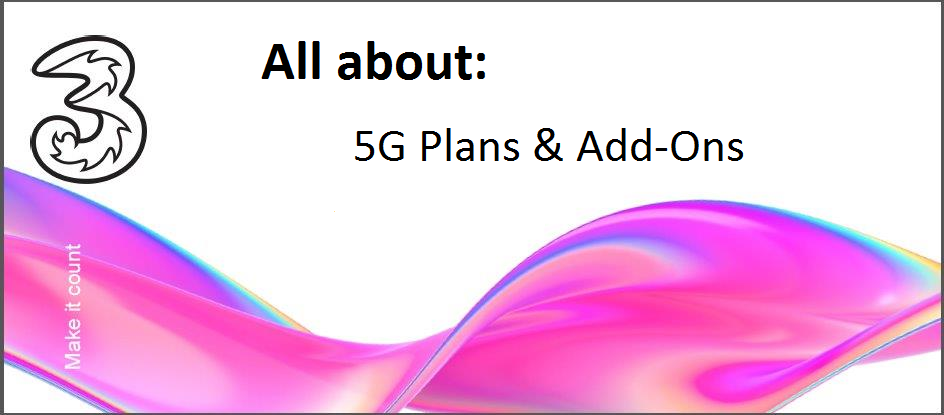 In a nutshell, 5G is the fifth generation of technology for mobile networks. We're talking data speeds that are 5-10 times faster than 4G. It's a game-changer and is going to blow previous generations out of the water!
Did you know that Three have more live 5G sites than any other network? That's right and we're here to tell you all about the plans and add-ons you need to get 5G service on your 5G phone or router.
First Things First
Don't have a 5G phone yet? Have a look at the fantastic range on our Online Shop.
Before signing up for a 5G plan or buying an add-on check if 5G is available in your area. Have a look at our Coverage Checker. Remember to check back regularly if it hasn't reached you yet as it could be on the way!
The next thing to check is if your phone is 5G compatible. All operators along with phone manufacturers are eager to ensure that all 5G phones will get the best 5G experience. At present, if you choose to bring certain handsets to Three from another network please be aware that Three is working with some manufacturers to support 5G on these phones as soon as possible.
The Broadband Price Plan
New and existing broadband customers who have confirmed 5G Fast coverage can purchase the Huawei 5G CPE Pro 2 in stores and on our Online Shop right now for €149 with our new €44.27 per month price plan with a 24-month contract. With this plan you do not need an add-on, we will provide you with all the data you need.
Add-ons for your Phone Plan
Bill Pay
Bill Pay customers on 3 Bill Pay Unlimited or 3 Bill Pay Unlimited Plus have 5G already included in their plans. When you're in an area of 5G coverage and using a 5G phone you'll automatically pick up the signal 👍
Customers on 3 Bill Pay 100, 3 Bill Pay 300 or 3 Bill Pay Unlimited SIMO can add 5G by following these steps on the My3 app:
Log into My3
Select Add-Ons from the bottom line menu
Scroll sideways to 'Data'
Add 5G for €4.92 per month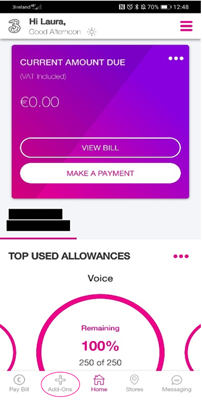 Prepay
You can also add 5G to any of our latest Prepay plans for €5 every 28 days. Customers on 3 Prepay 15, 3 Prepay 20 and 3 Prepay 30 can add this in My3 through these steps:
Log into My3
Select Add-Ons from the bottom line menu
Scroll sideways to 'Data'
Add '5G Booster'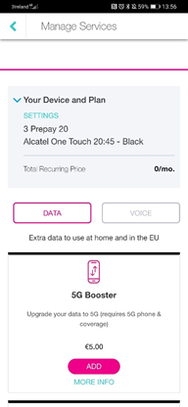 Have you tried 5G yet? Some of our customers have, take a look over here. We'd love to hear your thoughts so why not join the discussion?
Got a question? Search our Community or start a new topic, we're always happy to help.
You must be a registered user to add a comment. If you've already registered, sign in. Otherwise, register and sign in.