:

:

All About: Content Services
All About: Content Services

3 Community Manager
Mark as New

Mark as Read

Bookmark

Subscribe

Email to a Friend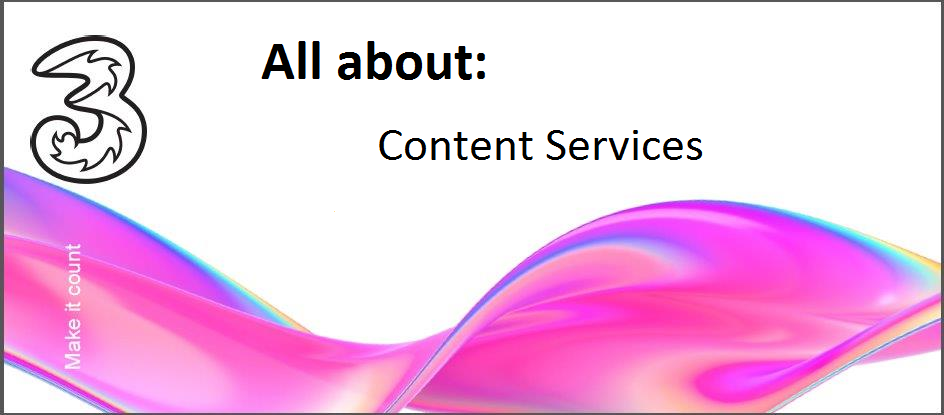 "What are Content Services?" we hear you ask. Well, you've come to the right place to find out. First things first, you might know them as subscriptions 😁
Content services are subscription-based services such as Music, Audiobooks, Video Streaming and even Digital Magazines that our customers can access and pay for via their bills and Prepay credit. Three are partnered with some of the leading providers of these services to offer some amazing offers to our lovely customers 👍
Many of our legacy plans won't have this service available so be sure to check out the below articles for details on how to change to one of our newer price plans.
How To: Choose a Bill Pay Plan
What's available?
Three currently provide 3 different categories of Content Services Subscriptions - Video, Music and Reading, let's take a look at them

Amazon's digital video service offers you a video selection you won't find anywhere else, all available on mobile, tablet and smart TV for €5.99 per month and you're allowed to connect 3 devices per subscription.
Amazon Music Unlimited offers more than 60 million songs and thousands of playlists and stations, including the hottest new releases from today's most popular artists. This subscription allows 4 devices to avail of the services for just €9.99 per month if you haven't availed of an Amazon Music promo previously.
Reading via Kindle Unlimited and Cafeyn
Kindle Unlimited provides unlimited reading on over 1 million titles, thousands of Audiobooks and a range of selected magazines all under one subscription. €9.99 per month for 3 devices on this one! Psssstttt - take a look at our recent blogs to see what your Moderators think about reading digitally How do you read yours? and Love my Kindle Paperwhite.
Cafeyn is a single subscription allowing you access to over 2000 of the leading magazines and also to newspaper content from around the world. You'll be looking at €9.99 per month for 3 devices here.
How can I avail of these?
Very easily, in the My3 app you'll notice the Add-Ons tab at the bottom of your screen. Here you can purchase your content services along with other add-ons.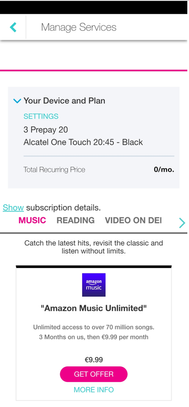 If you're using My3 on a desktop these articles will point you in the right direction if you need help locating where to apply add-ons
Not registered yet? No problem, take a look at our step by step guide below for help there:
How am I charged?
Bill Pay customers' content subscriptions will run on a 30-day cycle beginning when you sign up for your subscription. These dates may differ from your Three billing cycle so keep an eye for this on your invoice.
Prepay customers be sure to top-up by enough to cover your price plan and subscriptions when you top-up every 28 days. If you don't have enough credit to cover everything, your price plan charge will be taken as a priority, and then your most expensive subscription and so on.
Anything else I should know?
There sure is. We're offering fantastic promotions to customers who sign up for these subscriptions right now!
Subscribers to Amazon Music, Amazon Kindle and Prime Video will receive the first 3 months for free. Interested in Cafeyn? You'll get your first 3 months at 99c per month! How good is that?
Got a question that you don't see the answer to here? Why not search our boards or start a new topic on 3Community? As always, we'd love to hear from you 😊
1 Comment
You must be a registered user to add a comment. If you've already registered, sign in. Otherwise, register and sign in.