Your Bill Explained
Unless you have chosen the paperless billing option, you will receive your bill by post each month.
If you view a PDF of your Online Bill you will see a simplified version of the image below, but the information is the same.
To view your bill online, log in to your My3 Account. From there, click 'Analyse Bills' and then 'View Details' beside the bill you wish to view. You can also view a PDF version of your bill.
The bill will show details of all calls and charges from the last billing period.
Bill Explanation
Page 1
A summary of your bill.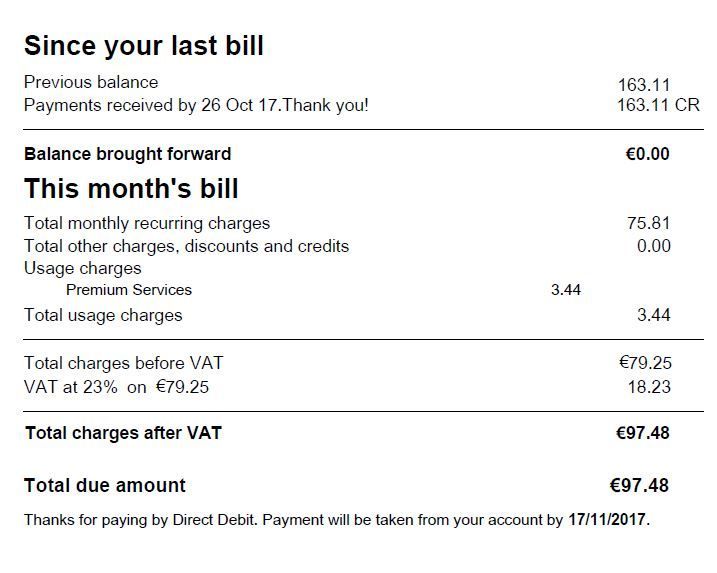 This page contains the following sections:
Section
Explanation
Barcode
The barcode will be displayed on the top of the first page of your bill and will support the mail returns process.
Since your last bill
Shows all payments received since your last bill along with any adjustments made on your bill. Balance Brought forward tells you the amount carried foward from your last bill.
This month's bill

Your monthly charges will appear here along with any additional charges, discounts or credits.

Usage charges where relevant will appear. Usage charges are divided up into the following groups:

Calls
Messages
Data and Entertainment Services
Roaming
Premium Services

Things to note:

Usage groups will only appear if you have usage in that group for that particular month. For example if you weren't roaming in a month, the Roaming usage group would then not appear on your bill.
The

Usage charges

section will not appear on the bill if you don't have usage for that particular month.

Total charges before and after VAT are displayed.

The total bill amount and due date are displayed here also.

Bank Giro

The Giro slip will only appear on your bill if your selected payment method is cash:

To pay your bill just fill in the Bank Giro slip and take to your nearest bank of Post Office.
Page 2
On this page you will find a detailed explanation of the sections of the bill along with useful information about Ways to pay etc.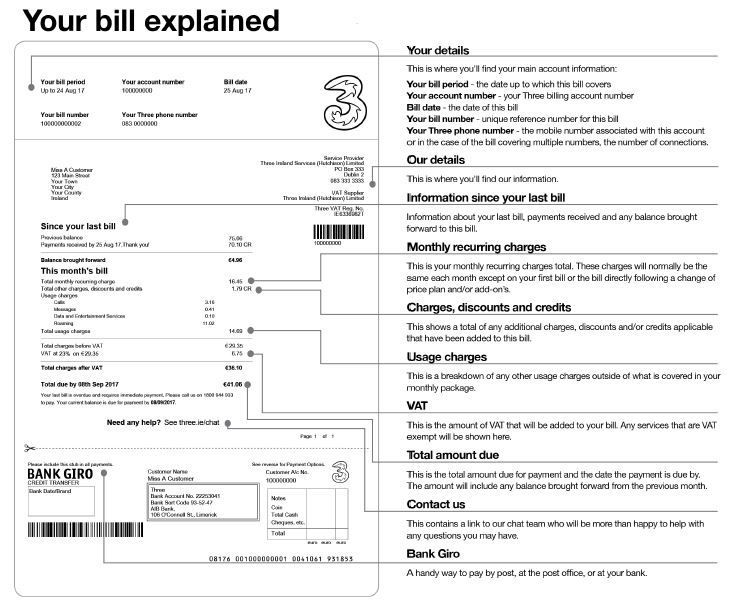 Page 3
Shows your account activity for the last month.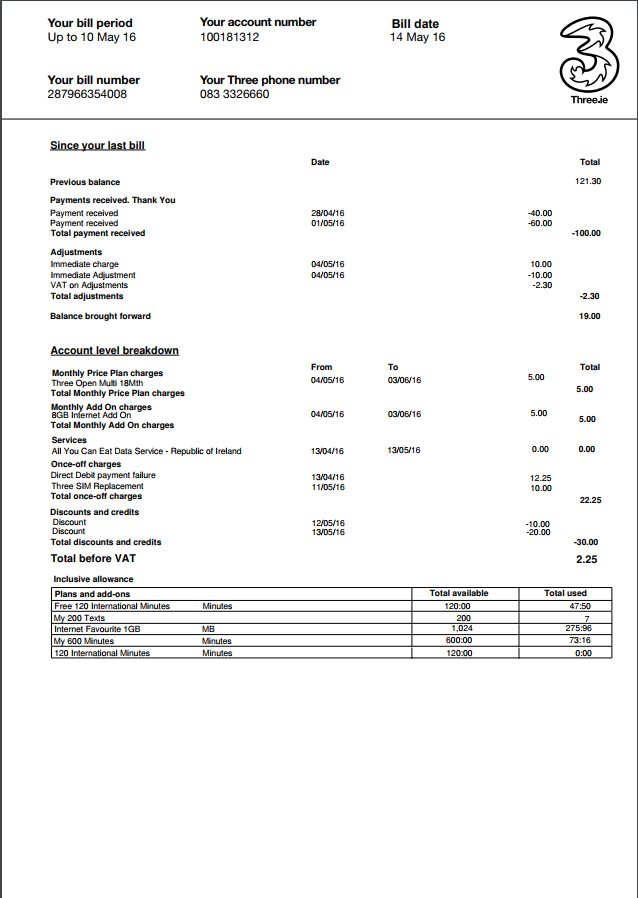 Section
Explanation
Since your last bill

Shows the account activity for your account.

This section will only appear on your bill if there is at least one charge / adjustment to your previous balance ( i.e. a charge or adjustment that impacted the balance immediately).

Note:

this section of the bill will only appear if there are charges, discounts or credits that were applied during the billing period on your account OR
if you have multiple phones numbers on the one account

Account level breakdown

This section will appear if you have multiple phone numbers on your account.

The Account Level breakdown is divided into the following sub-sections:

Monthly Price Plan Charges

- displays recurring charges for your account

Monthly Add On Charges

- displayed monthly add on charges for your account

Services

- Shows any services configured on your account

Once-off charges

- Shows all account level once-off charges

Discounts and credits

- Shows all account level discounts and credits

User Summary

Note: this section is only displayed where you have multiple subscribers (i.e. phone numbers on the account). This information will be presented even if monthly charges, discounts, other charges do not apply:

Total before VAT

Shows the total charges on your account before VAT.

Inclusive allowances
Shows inclusive allowances for the billing period. Includes group level Inclusive Unit details.
Page 4 onwards
Page 4 will show details of charges.
Change Bill Method
If you wish you can change how you receive your bill each month. To change the way you get your bill:
Login to the My3 Dashboard.
Under the Billing Info section, click Change how you're billed.
Select the relevant option.
Click Change.
If any of your details are incorrect contact a member of our Customer Care Chat team by clicking here.