Huawei 5G CPE WIN Router (Technically Installed Broadband)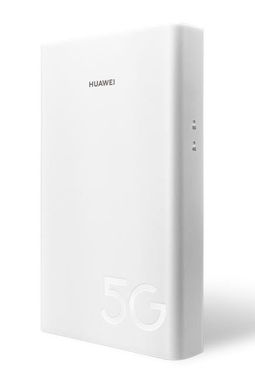 To view step-by-step tutorials for setting up your router and troubleshooting internet issues, check out our Huawei 5G CPE WIN Router Guide.
Your 5G Technically Installed Broadband package includes:
Outdoor Huawei WIN unit (pictured above)
Indoor Huawei AX3 router (pictured below)
Power adaptor unit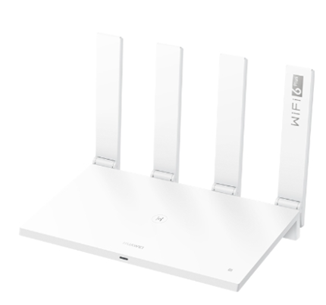 Three will send out an installer to set up the outdoor unit, so you don't need to worry about that part. When our installer has finished, you will be connected to 5G broadband– with all units wired up correctly, power supply running to each unit and initial speed tests completed.
Below is some information about the Technically Installed Broadband set up that you may find useful:
LED Indicators
Your indoor AX3 Router will mirror the outdoor WIN unit. The below information explains how the LED indicators look on the outdoor unit.
This unit has a 5G Indicator and a separate 4G Indicator:
4G LED
Green Indicator = Good 5G Signal
Yellow Indicator = Average 5G Signal
Red Indicator = No service: check SIM card and provisioning status.
5G LED
Green Indicator = Good 5G Signal
Yellow Indicator = Ok 5G Signal
Red Indicator = No service: check SIM card and provisioning status
LED Off = 5G coverage but device is idle with no data passing OR 5G Off and no 5G coverage available.
On the indoor unit, the lights will indicate the strength of the signal on the outdoor box.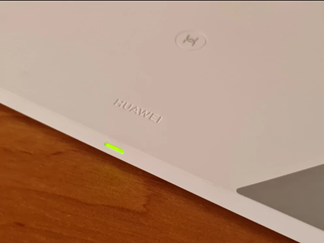 Outdoor to Indoor Connection Points
Your installer will have connected the cable coming from the outdoor unit (This has a blue end to it) to the same blue coloured WAN and Power port on the power adaptor inside your home or office.
This power adaptor has its own power source. The power adaptor also has an on/off switch so please ensure that it has not been switched off.
Your AX3 indoor router has its own cable that then runs from its WAN port (located next to the power connection on the back of the router). The other end of this cable must be connected to the LAN port on your power adaptor.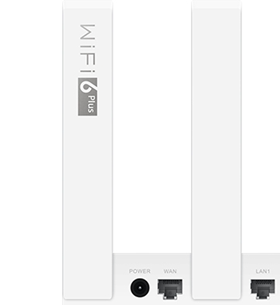 Your router must be plugged to a power source. After the initial installation and set up, the light should be green.
Why am I unable to find the WiFi network of the CPE?
If no device is connected to the WiFi network of the CPE for two hours, the WiFi will be automatically disabled. You can reactivate the WiFi on the Huawei AI Life app or the web-based management page or restart the CPE.
My Laptop does not recognise the WiFi network, but other devices such as Tablets and Phones can.
Ensure the latest wireless adapter driver is installed on your laptop. Check Manufacturer's website for product support.
I have a lot of older WiFi 5 devices. Can I use WiFi 5 only?
Yes, go to the router home page (192.168.8.1) and log in using your username and password. The default username and password is listed on the underside label of the device.
Select Advance
Select WiFi Advanced
Under 2.4Ghz WiFi change the 802.11 mode to "b/g/n"
Click Save
If you want older devices to access 5Ghz you can also change the 802.11 to b/n/g under 5ghz and follow the same as above.
Your router will automatically power off and on.
Please note: The default mode is b/g/n/ax (WiFi 6) which will provide faster speeds while using compatible devices. It's recommended to use the default setup. Older devices may not be able to support WiFi 6 so WiFi 5 (b/g/n) should be used.
Why is the Internet access rate low when I use the WiFi of the outdoor unit?
The WiFi network of the outdoor unit is only for configuring the CPE. To access the Internet, connect to the WiFi network of the indoor router (Huawei AX3).
What should I do if the indicator isn't coming on for the outdoor unit after it is powered on?
When the ambient temperature is extremely low then the CPE needs to preheat for a period of time before working.
If temperature or weather considerations are not the issue, please refer to the section of this information that shows the set up for the Outdoor and Inside units. Also, ensure there is no unit power supply issue by trying the plug of the unit in other sockets.
How do I update my Router to accept a Static IP address?
In doing this, you must have already requested a Static IP address for your Broadband Line (This is only currently offered to Business Customers). Once you know your Static IP address, please follow the instructions below to update the router to work over this static IP.
Connect your computer to the router's Wi-Fi network (or connect the computer to the router's LAN port using an Ethernet cable).

Open your Internet browser.

Enter

192.168.118.1

in your browser address bar and log in to your router's web-based management page.

Once logged in select: Network Settings > Mobile Network
Under profiles select +
In the 'APN' box, type 'open.internet.public.static'.
Click Save.
Please ensure this is now selected as default APN.
For more troubleshooting tips, check out our Huawei 5G CPE WIN Router Guide with step-by-step tutorials.
Not your router? Visit our Device Support area and select your router to view step-by-step set up and troubleshooting guides.