3 Community Manager
Mark as New

Mark as Read

Bookmark

Subscribe

Email to a Friend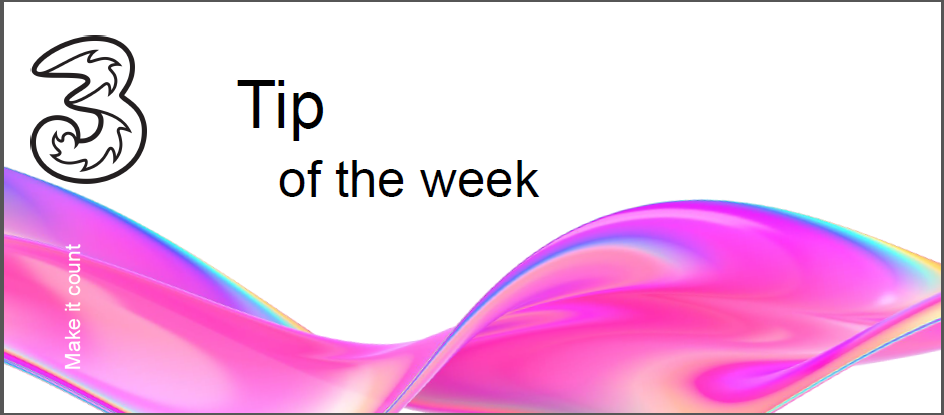 Do any of the following words and phrases resonate in your soul; gallivant, travel bug, wanderlust, itchy feet, globe-trotter? If they do then you absolutely should check out this #TipOfTheWeek for travelling. These pointers are really helpful whether you're exploring a different country or roaming this beautiful green Isle of ours.
Before you set off
Look at our roaming 3MadeEasy to see what services are available.
Check that your passport is in date and have a secondary form of ID (Driver's Licence/National Identity Card).
Let family and friends know your general plans for your trip.
Memorise at least 3 phone numbers and write them down on a piece of paper.
If travelling abroad check that there are no delays, this goes for your commute to the airport or port.
Take a screenshot of your boarding pass, better still print off a copy too.
Familiarise yourself with safety tips for your phone.
Buy and read a travel book with handy phrases in the local language, maps of the general area and public transport info.
To avoid overpacking, pack the night before or the morning of.
Leave the expensive jewellery at home too.
Final check – passport, ticket, money, charger, adapter and phone. Don't forget to lock the house and check again.
And you're off.
Travel light, no really, travel light. Less to carry, less to be concerned about and less wardrobe choice; you won't waste any precious holiday time on "deciding" what to wear. Leave the flashy and expensive jewellery at home Carry a small amount of cash and keep your credit/debit card separate.
Have a 30-40 minute stroll around your accommodation neighbourhood to get your bearings.
Have a business card with your accommodations address on it and on the back write down local emergency numbers, location of nearest ATM and banks and nearest hospital and doctor.
Leave your passport in a secure place and have your second piece of ID on you at all times. Get talking to the accommodation, restaurant or bar staff. They have great tourist tips

👍

Go where the locals go, not only will it be cheaper but you'll get a more authentic experience.
Try a "hop-on hop-off" bus tour where available. It's the best and quickest way to check out the sights.
Take in a full day trip, group tour or excursion. It's a great way to meet likeminded people.
If you have any other tips you'd like share, comment below and let your community know!
You must be a registered user to add a comment. If you've already registered, sign in. Otherwise, register and sign in.