3 Community Manager
Mark as New

Mark as Read

Bookmark

Subscribe

Email to a Friend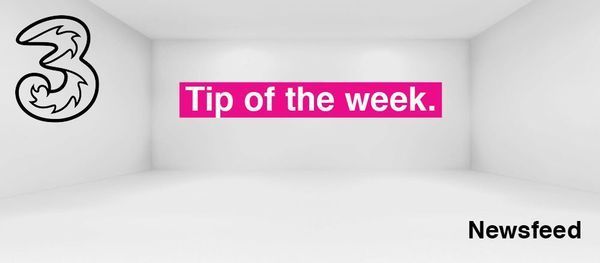 How many phones have you had in your lifetime? If you are reading this it's very possible that you've had more than one and your address book/contact list is getting bigger each time you get a different phone. Now you've ended up with hundreds of contacts, numbers, and emails in there, with 50% of them obsolete? Time to declutter your contact list by getting rid of duplicate or contacts you simply don't need anymore!
Android tips
There are a lot of different phone manufacturers that support Android, with this in mind the steps below are general. For your own specific phone type, please refer to your user manual. The first tip is to always start with your contacts app and not contacts through your dialler 👍
Most android phones have "merge duplicate contacts" in the settings. To find this: open your contacts app > settings > look for merge duplicate contacts. Below are screenshots of Samsung ( Pic 1) and Huawei (Pic 2)
If you prefer to do this on your laptop or other devices via Google Drive: go to your Google drive > click the contacts icon > you'll see "duplicates" on the left-hand side > click on this to tidy up your contacts. Alternatively, go to https://contacts.google.com .
This next option is a bit time-consuming but can be strangely relaxing at the same time; manually delete. Most Android phones give you the option to delete multiple contacts simultaneously. You can also do this on Google Drive.
If you use Gmail as your primary mail, new contacts with an email only are automatically generated (with sync on) in your contact list . It's a good idea to remove those random email addresses if you don't want them in your contacts. Blitz clean obsolete email addresses at https://contacts.google.com
Pic 1: Samsung S9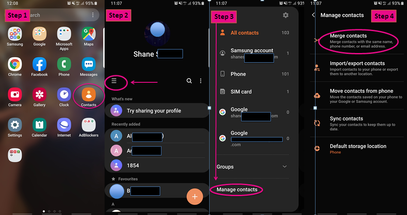 Pic 2: Huawei P20 Pro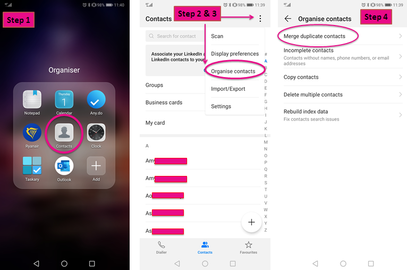 iPhone tips
There is no "mass" merge option on the iPhone itself, here you'll need to select the individual contacts and merge or delete them one by one. To access your contacts app >select the green Phone icon > select "Contacts" from there.
Find the contact you want to merge or link to another contact, and select >Click the edit button in the top-right corner. Next scroll down to the bottom of the page > click link contacts > you'll be taken back to your list of contacts > Find and select the second contact that you want to merge/link with the original one > In the upper right-hand corner select the Link option > then click Done.
To delete numbers manually, > select the contact that is no longer needed. >click Edit button and scroll down > click Delete Contact > confirm.
Assuming you have your contacts synced to iCloud, you can do it all in the iCloud! Here you can easily find duplicate contacts and merge or delete as required.
For more information on how to manage and organise your contacts, have a look at https://support.apple.com
General tips:
Back up your contacts to a single cloud of your choice ( Google or iCloud ). This will keep your contacts stored in one place.
To avoid duplicate contacts in the future, turn off auto-sync for all apps such as Whatsapp, Viber, Facebook, but leave the sync on for your cloud.
To do this on Android Go to Settings > Cloud and Accounts > Accounts
iPhone Go to Settings > Accounts & Passwords
You must be a registered user to add a comment. If you've already registered, sign in. Otherwise, register and sign in.