Highlighted

Guide
Mark as New

Bookmark

Subscribe to updates

Email to a Friend
Unexpected €2/day data charges
I thought I was going mad when this happened last month and put it down to user error. But this month, it's happened again (and I've changed my phone since then too).
I'm on the BeFree Internet plan. I'm very careful about turning off mobile data on my phone a day or so before it expires, so I don't accidentally incur any €2/day charges when it runs out. Last month (when I was still using a Nokia 5), I disabled it as usual, and a day or two later I get a text saying "Your €2/day plan has been activated".
First of all, can I just say it's incredibly sneaky and customer-hostile that you no longer send out a text a couple of days before our plan is about to expire, and just tick us over to the standard €2/day data plan if we hadn't noticed.
But anyway, I assumed I'd just disabled my mobile data too late, and turned it off there and then. But again, next day, I got *another* text, saying I'd been charged another €2. I checked my mobile data setting, it was still turned off. I was about to complain at that point, but thought I'd leave it another day. I never got another text.
I re-activated my BeFree Internet plan on October 19. Coincidentally, last week, I got a new phone (a Moto G5), and swapped my SIM into it. This time I did just forget to turn off mobile data before it expired, and I got the "Your €2/day plan has been activated" text. That was yesterday. I immediately switched off mobile data to avoid any further charges.
Today, I got the text again, and was charged another €2. I checked my settings. Mobile data still switched off.
Looking at my recent usage, something has used exactly 1,019.60KB of data, exactly every two hours, between 18:20 last night and 8:20 this morning. The recent usage log on your website doesn't go back far enough to see if the same pattern occured last month when I was getting the texts.
I know you're probably just going to say "that can't happen, you must have had your data turned on". But according to my phone, at least, I really didn't. The Data Usage settings page also says no data has been used today, though I know that's never 100% accurate: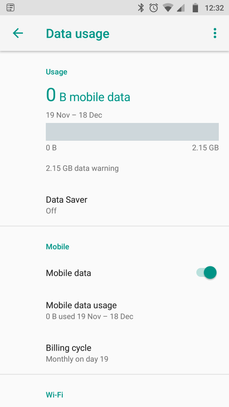 (Yes, I know mobile data is turned on in that screenshot -- I've just turned it back on because I've just re-activated my plan again.)
It also seems weird that the start of that 2-hourly usage pattern more or less coincided with me turning off data on my phone -- there's no sign of a similar pattern in the previous days.
Any suggestions as to what's going on?