3 Community Admin
Mark as New

Bookmark

Subscribe to updates

Mute

Email to a Friend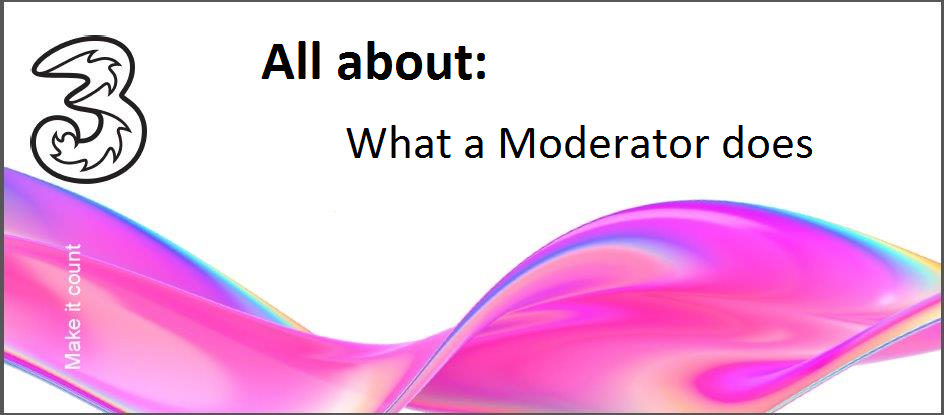 First, check out WHO we are click here to #MeetTheMods and get acquainted with us. You'll see us all at different stages online from time to time. Don't be shy in tagging us to get our attention by adding an @ symbol before our user name, for example, @Three_Deborah.
The 3Community is growing in members every day, some of you are aware of how forums operate and what the role of a Moderator is. On the other hand, maybe a few of you are new to any type of Community. We have a variety of different responsibilities on the 3Community and one of them is to help you by creating articles and blogs. So we've put together this list of what we do to help you along the way👍👍
We respond to member's requests for help or assistance when one of us is tagged. Monday to Friday we are online from 9 to 5, when we see our name being mentioned publicly we aim to respond as soon as possible. Rest assured, no public post goes unanswered, being a forum, one of your other 3Community members might respond to you with their advice of a similar situation

😊

We ensure that all 3Community members follow our House Rules and Guidelines. Where these are disregarded we may send you a PM as a gentle reminder. Please keep an eye on our click here for 3Community houserules as they are subject to updating. Bottom line, keep public posts respectful and courteous.
This is a big one; we're here to protect your privacy. As moderators, we often see members posting their personal details on one of our boards or using their phone number as a username. Please remember that it's public for all to see! We delete these as soon as we see them and mark your post with " * personal details edited by Mod" or change your username to something generic.
We're extremely watchful for inappropriate content, bad language and behaviour. If flagged these posts are either removed or edited. All edits made by a Moderator are final and marked by "*edited by Mod".
We're here to monitor all public posts and interactions between members on the discussion boards. Sometimes we see that members can't find a #3MadeEasy article to guide them with a query, so we take this onboard and create one for you. We're always open to suggestions regarding the content here

💪

Here's a little secret; you help Three identify customer issues quickly. How? A topic is started, another member pops on and says it's happening to them too, and then the next member, and so on. Your Moderator will see this, reach out to you while checking other 3 channels too. The more examples we get to pass on to our tech teams the better.
It's possible that you might not know where your post or topic should go to get the best response from other members. We've got you covered, as one of our daily tasks we check those stray topics find themselves in the right area. When this happens, you get a notification to say your topic has been moved.
As employees of Three Ireland, based in Limerick, we are here to help you with account queries. General account queries are answered publicly as this will help others in the same situation as you. Here is an example of what I mean

👉

click here . You'll see that the response was marked as an accepted solution

😊

However, there are times where you might have a specific query and for that, we will invite you to go into Private Message (PM) to share your account details privately

👉

full name, number, address, and date of birth.
Yes we do a lot, and here are the things that we don't do. It's short and sweet.
Place orders and/or change price plans
Remove the adult filter
Take payments, set up a payment plan or remove a payments restriction
Takeover or update queries already raised with another channel (Messaging Teams, Social Media, or Customer Care) but we can check the status.
Our roles are ever-evolving but our focus is helping you. If you can't find your answer on the Community, drop us a line and we'll point you in the right direction.🦸‍