3 Community Admin
Mark as New

Bookmark

Subscribe to updates

Mute

Email to a Friend
How does your garden grow?
The sun is shining, and summer is in the air. Many of us are looking bewildered at our garden wondering when it turned into a jungle… Or is that just me? 🤔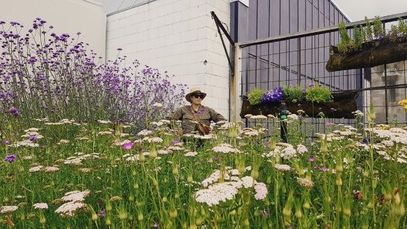 This year, aside from just taking a hedge trimmer to all and sundry, I wanted to put a bit of effort into my garden. As one of the least green-fingered people out there, I of course turned to my phone for help.
My first objective was to identify some of what was growing around my borders. I found a really cool app Garden Answers Plant Id which is available on both iOS and Android. You simply post a picture of the plant or flower in question and the app matches it and gives you info on caring for it. (Who knew the rhododendron I planted a zillion years ago would still be alive!) Anyway, I was off to a great start!
Next, I wanted some new plants and colours in my garden so off I went to Google again and found IrishGardeners.com. This forum is ideal for newbies like me who don't know their daffodils from their dandelions, and I got plenty of advice on what to pick up from my local garden centre (and what to do with it when I got it home 😉)
The next stop was the garden centre with my list and I also popped into my local euro store where I picked up lots of fun, bright outdoor decorations for next to nothing. These will come in handy if all my planting skills don't come to fruition 😊
So, tell us Community, what're your top tips for gardening newbies?