Highlighted
Mark as New

Bookmark

Subscribe to updates

Mute

Email to a Friend
Review Amazon Echo Show 8
Having reviewed the Amazon Echo Show 5 last year I was interested to see what were the differences between it and the Amazon Echo Show 8.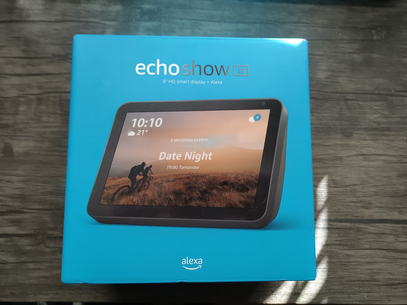 When you take it out of the box its quiet a hefty piece of kit, weighing in at over 1 kg.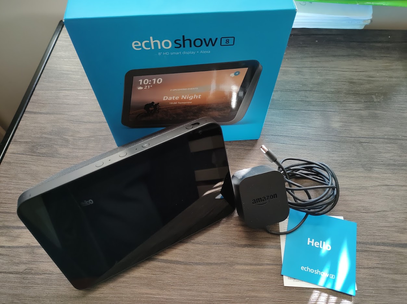 In the box, you get the Echo Show 8, a charger and a quick start guide.
The charging cable is approx 180cm and it uses a larger connection to the rear of the echo show 8 so you cant use the cable that comes with the echo show 5 in the echo show 8.
On the rear of the echo show 8 you will find the Power connector, a micro usb that is used for service and for wired connection when wifi is not available and a 3.5mm aux out connection.
On the top of the device are the volume controls ,4 microphones, the privacy button to disable the microphone and camera and the camera privacy slider for the 1 MP camera.
Amazon have increased the screen size and resolution on the Show 8 to be an 8 inch screen and 1280x800 resolution which is a big increase from the Show 5's 5 inch screen and
960-by-480 resolution.
When I was using it in my kitchen I found the ambient display of the screen very bright and I was able to view the screen from all angles, its very easy to increase or decrease the brightness from the home screen by swiping down.
It measures 200mm x 136mm x 99 mm and weights over a kilogram at 1037g so its quiet heavy.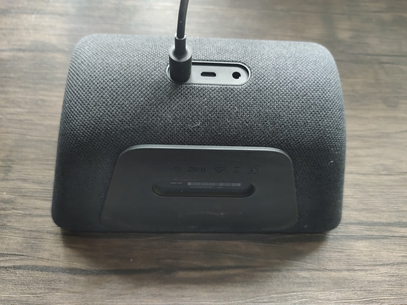 On the bottom the device has a large sticky rubber surface so it stays put.
Internally the audio comes from two two-inch speakers with passive bass, you have an equalizer option to tweak the settings, but overall the sound is quiet strong and packs plenty of punch. I mainly used Amazon's own Music services or listened to radio stations via TuneIn by simply saying "Alexa play TodayFM"
Setup was easy if you have an Amazon account, just connect to your wifi network and then enter your amazon details and thats it.
If you swipe down you can quickly set the brightness level, enable Do Not Disturb and go into the Settings Menu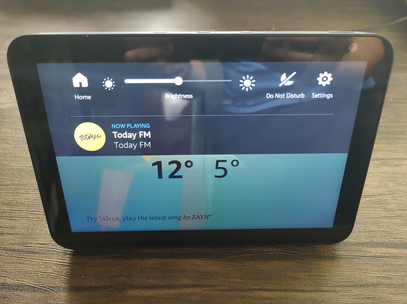 In the Settings menu you can
Configure the bluetooth settings, so you can connect your bluetooth device i.e your phone and pair with the Echo Show 8 so you can use it as a speaker.
See what Network you connected to.
Display and Brightness settings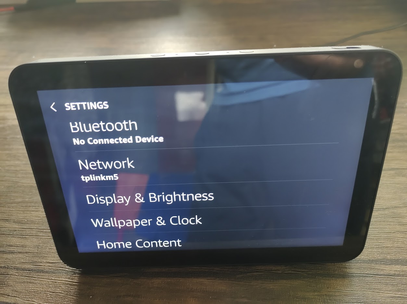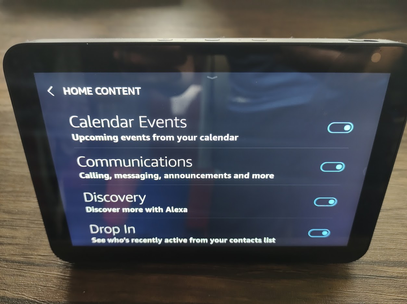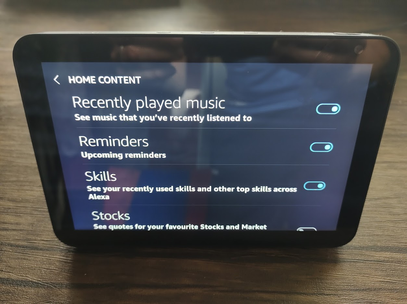 In the Home Content you can select what you want to see on the screen while its not in use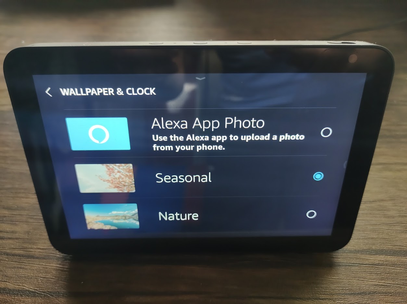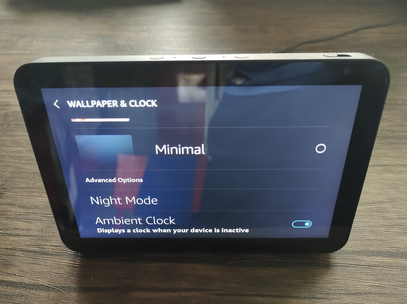 In the Wallpaper And Clock you have options to display what type of wallpaper you want, but unfortunately you cant configure the clock faces like you can do on the Echo Show 5 which is a real pity.
Swipe right to left you get options like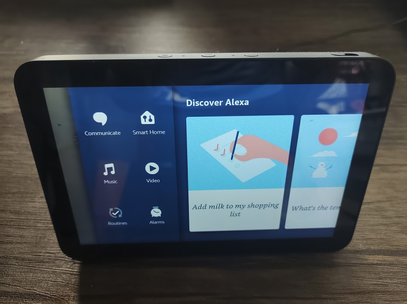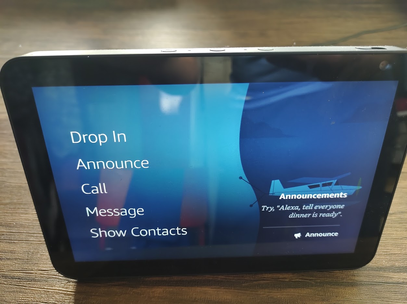 Communicate, which allows you to make video calls, make announcements to other Echo devices and firesticks thats really handy feature when the dinner is ready.
Music will show the Music you played recently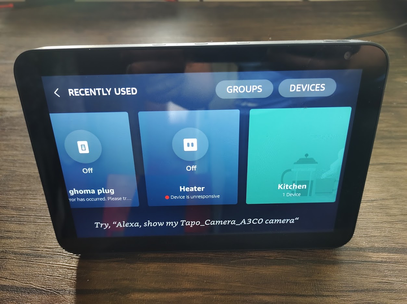 Amazon apps or skills as they like to call it are useful especially for controlling your smart home . In Smart Home You can see your smart home devices, so you can control them from the alexa either by touch or by talking to it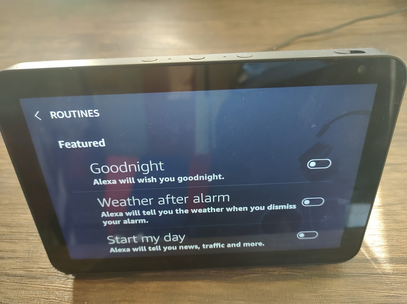 Routines, give you an option to get the echo show 8 to do activities at a certain trigger.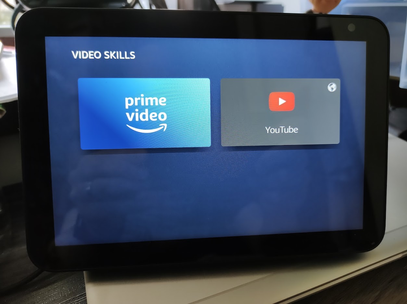 In Video the Prime video skill is very good as you would expect it to be being an amazon related app but the youtube app is still just a link to a web browser as you can see in the picture below.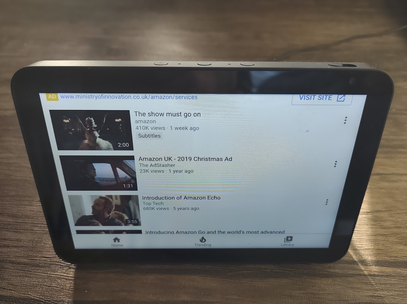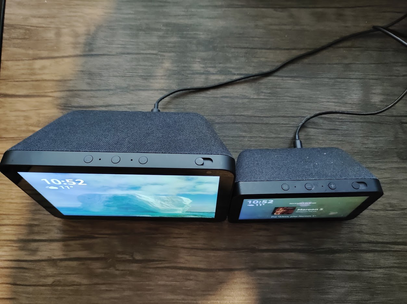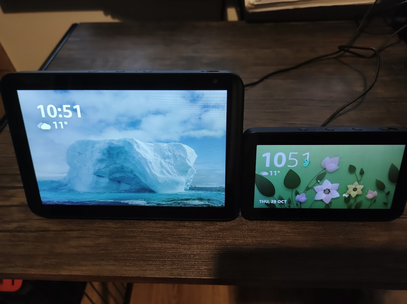 Comparison pictures of the Echo Show 5 and Echo Show 8
I would recommend the Show 8 for your Kitchen/Living Room with its larger screen and speaker and the Echo Show 5 for your bedroom as you can configure the clockfaces.
The Amazon Echo Show 8 is a great bit of kit to make your home a bit more smarter.
Buy from amazon
https://www.amazon.co.uk/amazon-echo-show-8-compact-smart-display-with-alexa/dp/B07SMN7FYZ/ref=sr_1_...
Argos
https://www.argos.ie/static/Product/partNumber/4039369/Trail/searchtext%3EECHO+SHOW+8.htm
Currys
https://www.currys.ie/ieen/smart-tech/smart-tech/smart-home/smart-home-starter-kits/amazon-echo-show...
Mark as New

Bookmark

Subscribe to updates

Mute

Email to a Friend
Get the Echo Show 8 for only £60 in the black Friday Sale from Amazon
Highlighted
Pathfinder
Mark as New

Bookmark

Subscribe to updates

Mute

Email to a Friend
What is the sound like out of it?

Highlighted
Mark as New

Bookmark

Subscribe to updates

Mute

Email to a Friend
Very good at highest volume its very loud , theres an equalizer option if you want to tweak it yourself.
Highlighted
Pathfinder
Mark as New

Bookmark

Subscribe to updates

Mute

Email to a Friend
The sound of of the normal echos is very good too. Looking forward to setting up my echo shows.
Highlighted
Mark as New

Bookmark

Subscribe to updates

Mute

Email to a Friend
You can set them up as a Group so music would stream out of multiple devices at the same time.