3 Community Admin
Mark as New

Bookmark

Subscribe to updates

Mute

Email to a Friend
Getting Started on 3Community
Hi there and welcome to 3Community.
If you're new to these parts, you might be wondering what 3Community is about? Look no further as here's the lowdown;
What is 3Community?
3Community is a safe place for Three customers to talk to each other about their experiences with Three products and services, share solutions with each other and find useful tips and tricks related to Three.
How do I register?
Using your My3 details, username and password, pop over here to register for 3Community . You will get directed to our registration page, all you need to do is fill in those details and taaadaaa, you have a 3Community profile.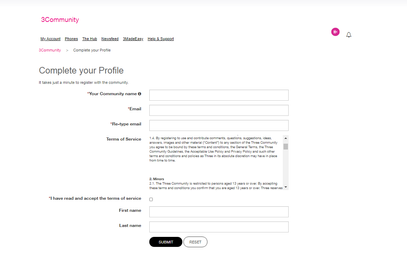 What is a blog/article?
Your 3Moderator Team just love posting tips and tricks to help you with your Three products and services. 3MadeEasy is the place to look and let's not forget Newsfeed, where you'll find reviews on phones, apps and Tip of the Week along with the occasional tech news.
What is a Community board?
Our discussion boards are open for you to ask questions, share your thoughts, and help others. We have 3 main categories with boards;
My Account > Billpay > Prepay > Broadband
Phones > iPhone > Android > Other
The Hub > Welcome to 3Community > The Living Room > Suggestions > Competition Information
Each category contains different boards where you can start a topic or reply to posts from others and offer up your advice.
How to start a topic?
Community is all about you, the customer, sharing what works for you or what doesn't. When it doesn't work for you, another member here might have had the same experience and will offer you advice. Reaching out to the Community couldn't be easier.
Sign in over here
Go to the relevant board
Click on "Start a topic"
Give a title, and description in the main body.
Somebody will come to your rescue

💪
Feel free to pop up a review of your new phone or app in our Phones board.
What is an accepted solution?
If you started your own topic and your question has been answered, you can accept that answer as the solution. This helps others find answers to questions they have, and it also gives the person who answered your question a little boost in their ranking. More on ranks later 🤓
What are kudos/likes?
You can like any of the posts or blogs around the community by any of our members. It's like a virtual high five for something you agree with or a way to say thanks for the help you've received! To do this, click on the star at the bottom of the post you like 🌟

Speaking of which, if you've found this post helpful and want some practice, give a like 😉 ❤️