3 Community Admin
Mark as New

Bookmark

Subscribe to updates

Mute

Email to a Friend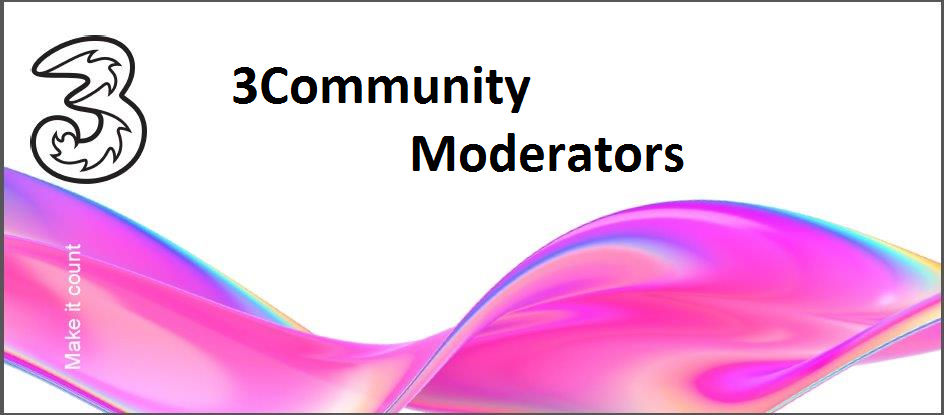 Hello 3Community members 👋
We encourage all of our members to post publicly as often as possible, so that other members who may have been in the same position as you can help you with your query. In saying that, I think it's important that you all know who the 3Community Moderators are and what our role on the community is;
All about: What a Moderator does
We're here to guide you, make sure that house rules are followed and of course do our best to help you. If you post a topic looking for help and do not receive a reply within 24 hours then one of our 3Moderators may reach out to you.
Without further ado, let's #MeetTheMods
Name: Laura
Phone: Huawei P30
In 3 words: Friendly, chatty, and family-orientated.
Hobbies/interests: Holidays, Disney, food and did I mention holidays?
Name: Shane
Current phone: Samsung Galaxy S9
In 3 words: Laid back, Friendly, & Organised
Hobbies and Interests: Reading & training (mostly train in Kung Fu & Kickboxing.
Name – Danni
Phone – Huawei P30 Pro
In 3 words – Fun, ambitious and adventurous
Hobbies and Interests – singing, drawing and going on road trips.
Name: Debs/Deborah
Phone: Samsung Note 10
In 3 words: Energetic, Go-Getter and Adventurous
Hobbies/interests: Travelling, Hiking, Swimming and Food
Thanks for your time folks!