3 Community Admin
Mark as New

Mark as Read

Bookmark

Subscribe

Email to a Friend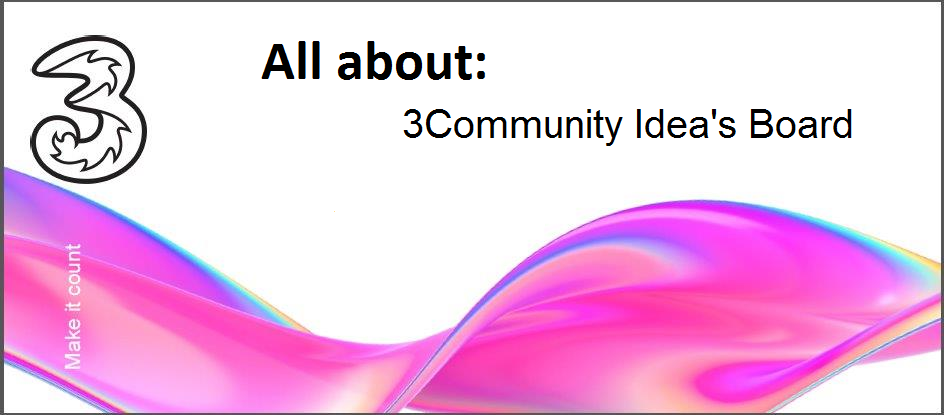 Some of you have been using our Idea's board recently and I have to say there's some great stuff in there already. Keep those ideas and suggestions coming! All members are welcome to submit an idea and/or comment on the ones that are there. Please remember to "like" your favourite ideas.
So what's the idea behind an Idea's Board?
As a Three customer and 3Community member, we want to hear from you, what products and services you'd like Three to have in the future. The 3Community Team monitors this board on a regular basis and we pass all ideas onto our Product and Future Development teams. No idea is too big or small, we'd love to hear from you.
How does it work?
To suggest an idea, you'll need to be a 3Community member, you can register here. Once you're a member not only can you suggest an idea but you can post on our boards and blogs.
As you can see there are 6 different stages to our Ideas board. Some will make it all the way through to delivered others not. Let's have a look at each stage and what it means.
New: Alright, this might be obvious

😁

This status indicates a NEW idea submitted by a 3Community member that hasn't been picked up by the 3Community Team. Fear not, we'll get round to it

💪

Needs Info: We love all ideas, but sometimes we need more info or a better understanding before approaching the relevant teams. Your 3Community team will change the idea to this status and reply to you with questions
Investigating: Wowzer! We've taken your idea to the relevant team and they are having a look at this. It could take a few days or a couple of weeks before the status changes again.
Accepted: This means that the relevant teams see merit in your idea and are working on making it or something similar a product or service on Three. At this stage, we don't know if/when your idea will become a reality
Declined: So sorry, and thanks for submitting your idea. All the right people had a look at it, but right now, we just can't commit. It's us, not you.
Delivered: Yippee, we at Three are delighted to make your idea or something similar a reality. You'll see this as a service or product very soon.
Other stuff
LIKE IT: Show your support for other members' ideas by liking their idea. It's easy to do this, just click on the little star on the right-hand side
SHARE IT: Sometimes you might think that the ideas and/or some of our blogs on 3Community are interesting for others. So why not share? Have a look and you'll see a "share" button under the OP – Original Post or Blog

Have I missed something?
Do you think that I've missed something crucial about the Idea's Board? I'm only human 😀 but I welcome feedback and suggestions. Actually, we've got an Idea's board for that now 🤣 Get posting here 👇 or there or anywhere.
You must be a registered user to add a comment. If you've already registered, sign in. Otherwise, register and sign in.