3 Community Admin
Mark as New

Bookmark

Subscribe to updates

Mute

Email to a Friend
Thankfully a lot of business have reopened to some extent and we have all thought/dreamt about where we'd go first. Hairdressers or barbers are definitely top of the list. They sure do have their work cut out for them, excuse the pun! Now the main question is, to dye or not to dye? Of course, that's a personal decision. Many people have refused to box colour their grey hair and some others have already booked their appointments with the local colour technician.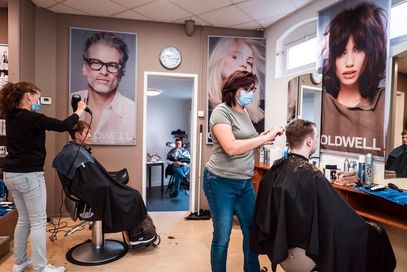 So is your hair going grey or grey already? I haven't coloured my hair since March 2020 and the grey is slowly appearing at the sides. I've been all over Insta, Facebook, Twitter and Pinterest on my phone and see people just simply rocking grey hair and beards. I'm still wondering if I should just go with the natural order of things 🤔
This is going to be a discussion with my hairstylist next Tuesday. I'd love to go on this journey gracefully, maybe a few "lights" to help me on the way 🤣🌩
What about you?
Do you colour your hair or are you all about embracing greying hair? Maybe you are all for high lights, low lights and balayage? What about the really fabulous blue and greens? Let us know in the replies below.
@billbond4 @Donegal-3 @RainbowRuth
1 ACCEPTED SOLUTION
Mark as New

Bookmark

Subscribe to updates

Mute

Email to a Friend
Hmm , might be handy for the few snakey grey/white hairs that are in my beard these days