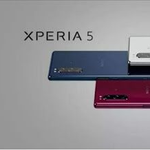 Legend
Mark as New

Bookmark

Subscribe to updates

Mute

Email to a Friend
Review TP-Link Deco M5 Whole Home Mesh Wi-Fi System
Review of the Deco M5 Whole Home Mesh Wi-Fi System.
With many of us working from home and more and more smart devices being added to our home, having a strong Wi-Fi Signal all over our home is becoming even more important. There is no point in having great Wi-Fi in the room where your ISP's router is located especially if your getting your internet from a mobile provider where the best place to position that router somewhere up high in your home and not great Wi-Fi in your other rooms of your home thats where a Mesh Wi-Fi system like the Tp-Link Deco M5 comes in really useful as it will give you Wi-Fi coverage of up to 5500 sq ft (500m2).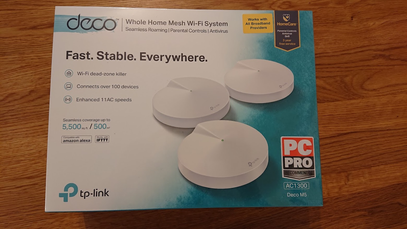 Its a very easy setup download the Tp-Link Deco App and using the supplied ethernet cable that you plug into your existing Internet providers router and the other end of the cable into one of the Deco M5 units which will become the main unit,plug the power cable into the Deco M5 and use the Tp-Link Deco app to setup the Network .
Then you plug your other satellite Deco M5 units around your home and thats it.
Its a super easy setup and if you want to add more coverage you can just buy another Deco M5 unit.
The Deco M5 units will create a 2.4Ghz (400Mbps) and 5Ghz (867Mbps) using the 4 internal antennas and will give a single Wi-Fi network that your devices will see.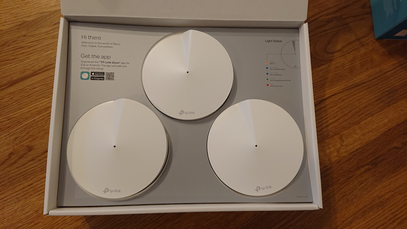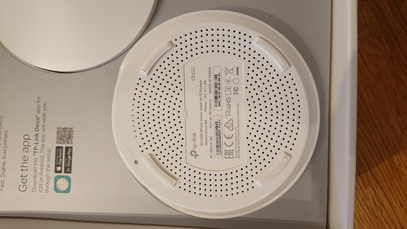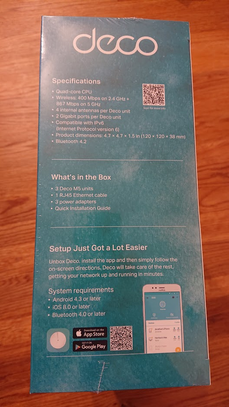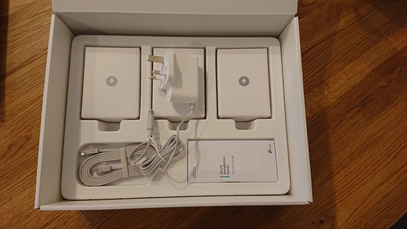 In the box you will get 3 Deco M5 Units, 3 power adapters (cable length approx 1.5 metres) , a quick installation guide and an ethernet cable.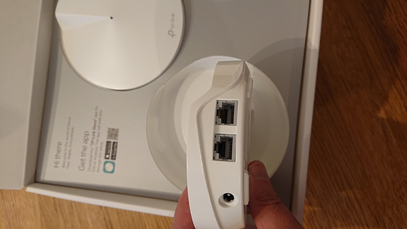 Each Deco M5 is approximately sized 20mm wide and 38 mm high on top there is a handy notification led (which can be configured in the Deco App) on the rear of each unit there is two Gigabit ethernet ports and one power socket. It is powered with a Quad-core CPU and it has 4 internal antennas.
The Deco M5 is compatible with IPv6 and has Bluetooth 4.2.On the bottom of the units there is a reset button and label for the Deco M5 unit.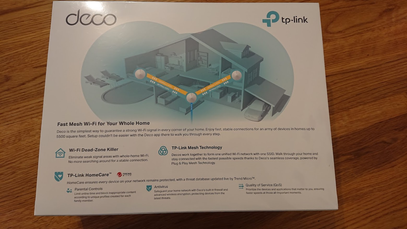 Install the Deco the app from your app store and create/sign in to your tp-link account. The process for adding the Deco M5 is very straightforward and the Deco app guides you through the steps with clear instructions, like the below ones that I followed.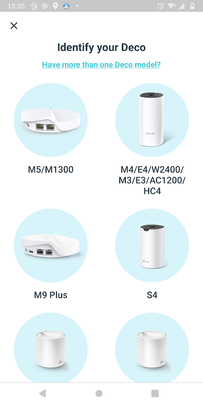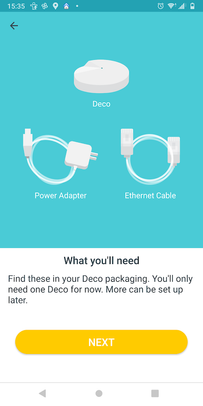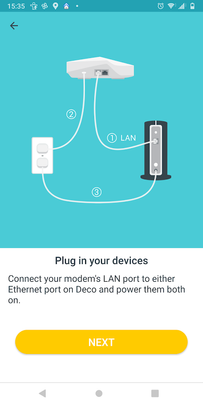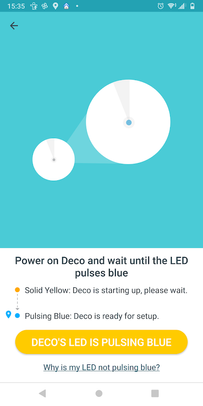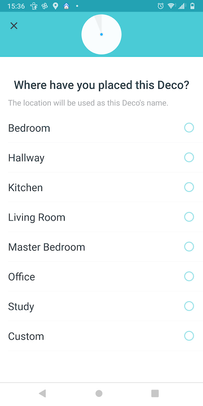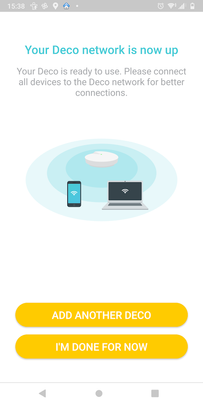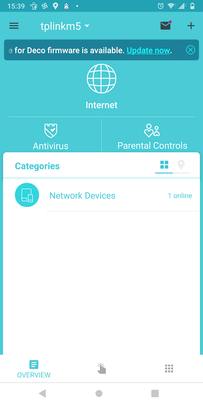 For the other Deco M5's that I placed around my house (one in the kitchen and one in the main bedroom) I just followed the process and it was very straightforward to get them added to the network. If you have ethernet around your house you can use ethernet to connect the Decos this will give you the best performance.
I noticed immediately that places in my house like the bedrooms furthest away from the existing router that previously had very poor/no Wi-Fi now have full signal strength and in my back garden there was a strong signal. I found this great as I could bring my Alexa outside to listen to streaming music outside.
The Deco app gives you plenty of options to control how your Internet and WiFi is used in your house. I found the Quality of Service and the Guest Network and Parental Controls the most useful.
In the QoS option I gave my work laptop the highest priority on the network so it would get the bandwidth that it needs and the Parental controls were great to control when my kids could access the internet on their devices.
Having the AntiVirus is a good feature to offer you more protection especially with so much viruses on the internet these days and we all want to keep our data safe.
Tp-Link also introduced a Automation action so you could enable an action that your smart light could turn on when you enter/leave your home (i.e. when your phone connects/disconnects to the Wi-Fi Network)
I liked the Guest network feature as it was easy to turn on the network when people called over, and there's a blacklist option as well to stop devices connecting to your network. The Deco app gives you notifications when a device joins your network.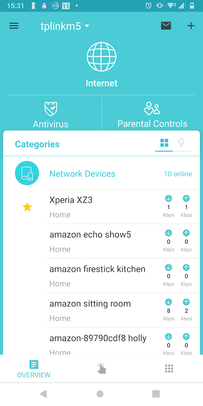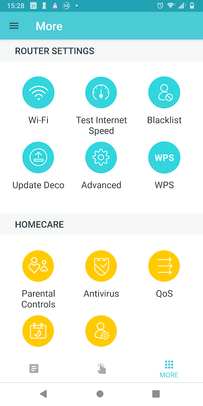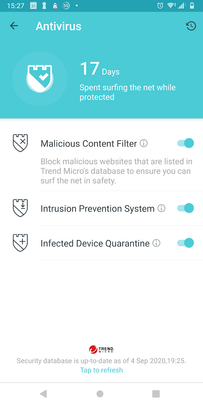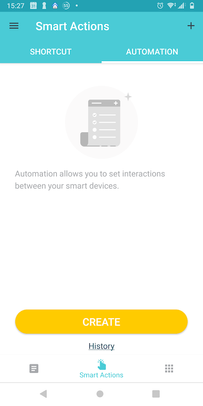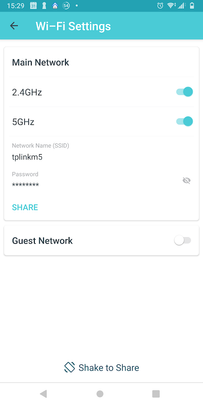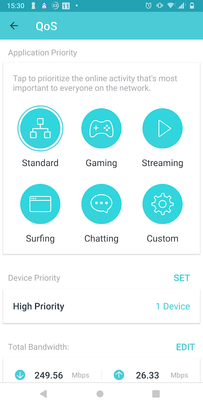 Some of the Advanced Options are in the below, there isnt a lot you can configure here.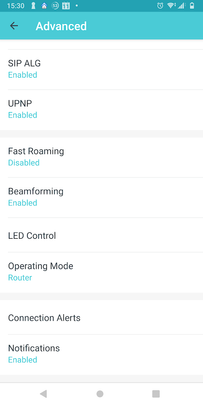 You also get options to give you a monthly report and setup a manager for the network
Another handy feature that you could make use of is having the ethernet ports on the Decos, I plugged my old smart TV that didnt have Wi-FI into the Deco M5 using an ethernet cable, I would recommend you do this if you have a device your using for work at home as using an ethernet cable will give you a better connection.
Speeds Tested via Fast.com on a Mobile device
Downstairs same room as Router and with Deco M5 - 250Mbps
Downstairs Kitchen ( room with another Deco M5) - 150Mbps
Upstairs Bedroom (room with another Deco M5) - 200Mbps
Upstairs Bedroom next to room with Deco M5 - 190Mbps
Upstairs bedroom - 140Mbps
Outside at end of rear garden (approx 11Metres away from house) 140Mbps
Signal Strength was always 5bars during my testing.
The Deco is also compatible with Alexa where you can enable the TP-Link skill and get it run some commands for you
For people looking to improve their home Wi-Fi and especially if your working from home and want to give priority to your work devices the Tp-Link Deco M5 is a great addition to your smart home. Having a 3 year warranty is a great addition.
Available to buy
https://www.three.ie/accessories/connected/tp-link-deco-m5-starter-pack/
And dont forget to use your discount from Three Plus https://plus.three.ie/offers/three-offers/4293/save-10-on-work-from-home-essentials
For more info see here
https://www.tp-link.com/uk/home-networking/deco/deco-m5/