Highlighted
Mark as New

Bookmark

Subscribe to updates

Mute

Email to a Friend
TCL isnt a big brand in Europe (yet) but its very big in America where they make household electronics like OLED TVs (they are the second largest TV manufacturer in the world) soundbars, earphones and Tablets.
When you hold the TCL 10 Pro phone it feels like a premium phone with the combination of of a smooth rear metal two tone finish with a lovely gradient colour effect and the curved Gorilla Glass 5 Amoled screen.The dual leds and rear x camera in a row make it stand out from the crowd from other phones.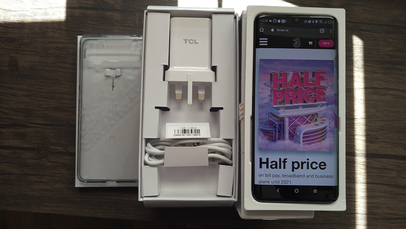 In the box you get a USB-C cable, sim tray/microsd removal tool, quick start guide, warranty info a fast charger and also a transparent plastic case. I think all phone manufacturers should include a case in the packaging of a new phone it's a great idea as no-one wants to scratch their nice shiny new phone.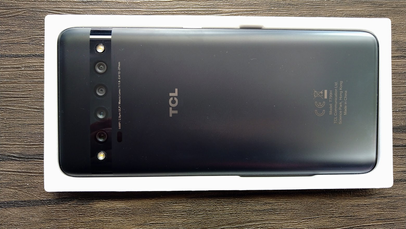 The Screen on the TCL 10 Pro is a 6.47" FHD+ curved AMOLED display (1080x2340) with In-display fingerprint sensor and face unlock. I found it very sharp as TCL bring their TV tech to the mobile world with their NXTVision and real-time HDR enhancements the display is capable of support of HDR10 which is great for the likes of Netflix where the picture is excellent.
Another nifty feature is having an inbuilt infrared port that you can program to control devices. I was able to control my Sky Hd+set top box and my Philips tv. There is also a headphone jack. And two microphones that make audio recording/ voice calls better.
On the left side of the phone you get a dedicated physical button for Google assistant. It's a pity the smart key can't be configured in the European version of the phone like it can in the American one .
Performance was very good with the 6GB RAM and 128GB Internal Storage but I noticed sometimes scrolling was as smooth as it could have been.but there is an inbuilt app that you can use to clean cache and memory to speed up the phone. A notification led would have been good to have on the phone as I missed some notifications, the Notification light feature could have more options in it like repeat once every 30 seconds. At least there isn't too many in built apps and they can be uninstalled if you want.
TCL have done a very good job on the user experience as its very light and their additions only improve it from the plain Android one. Theres also a feature called Edge Bar included thats a bit like a floating shortcut option that's useful if want access to an app you use a lot of the time and quickly want to use it, if you swipe again there even an ruler option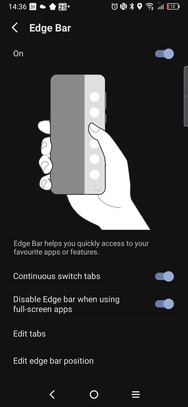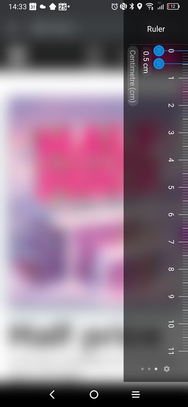 I found the face unlock worked most of the time and provided a faster unlock than using the underscreen fingerprint sensor.
I was very impressed with the TCL 10 Pro Camera setup, the arrays of cameras at the rear of the phone is
64MP (ultra high-res) with hybrid auto focus

2MP 2.9μm super low light video

16MP (123° super wide-angle)

5MP (macro).
As well as 2 LEDs for the flash. The low light photographs it was able to take were brilliant, it was able to see images in the dark that i couldnt see.
The camera app is very intuitive and I liked the option to view all 3 shots together.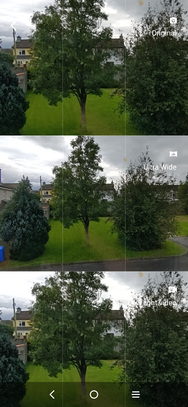 Overall very good camera and for low light shots it does extremely good .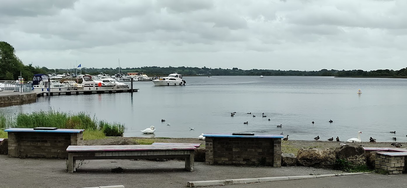 Wide Angle using the 16MP Super Wide-Angle Lens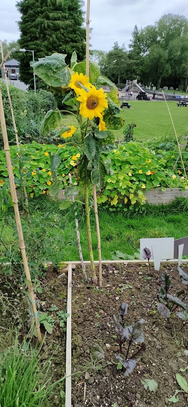 Daylight Sample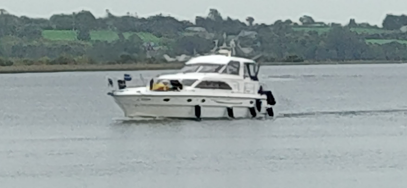 10x Zoom
Camera seems to use some of Google's low light algorithms as the night time shots came out great and captures extreme low-light detail that you cant see with your eye.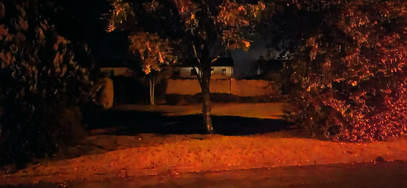 The other camera options are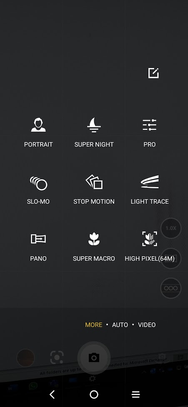 Heres a video sample.
The front camera is a 24MP front-facing camera, I dont take a lot of selfies, but the 24 MegaPixel camera gave lots of detail even in low light conditions.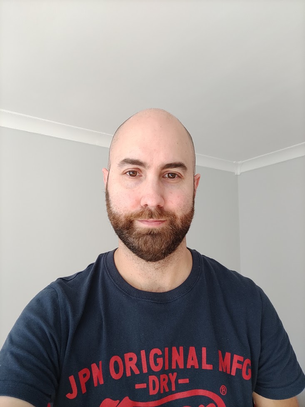 The battery is a fast-charging 4500 mAh battery with OTG reverse charging and you can charge up to 50% of your battery in 35 minutes using the supplied charger. You can even share your power with other devices using on-the-go reverse charging.
The Single speaker is very good and has good high volume, another front facing speaker would be a nice addition to the phone
Overall if your on a budget an your looking for a big screen phone and want to take camera shots, you would be hard pressed to beat the TCL 10 Pro.
Available from Three on Pre-pay (379€) or Billpay (from 0€), in Green or Grey
https://www.three.ie/content/catalog/phones/tcl-10-pro.html
Full Specs here
https://www.tcl.com/uk/en/mobile/tcl10-pro/specifications.html


TCL 10 Pro Video Sample
Highlighted
Mark as New

Bookmark

Subscribe to updates

Mute

Email to a Friend
The TCL 10 Pro received an update today which brings
Improvements to Fingerprint and Touch Panel performance.
System Stability and bug fixes
And brings the Android Security up to the latest (5th October Release)
Highlighted
Mark as New

Bookmark

Subscribe to updates

Mute

Email to a Friend
I did notice a small issue, is that my mobile data stopped working after the update, to fix it I did the following.
Goto Settings --> Network & internet --> Mobile Network --> Access Point Names -->
In the APNs Menu click the ... in the top right and "Press Reset to default"
That fixe the issue for me, mobile data started working after doing that
Highlighted

3 Community Manager
Mark as New

Bookmark

Subscribe to updates

Mute

Email to a Friend
@billbond4 thanks a million for that info. I'm sure it will be useful to other community members 😊