3 Community Admin
Mark as New

Bookmark

Subscribe to updates

Mute

Email to a Friend
Welcome and thanks for joining 3Community,
After signing up take a little bit of time to explore your membership profile and the features that you have. Why not start by clicking on your avatar and popping into settings? Or even click on "help" for a whole load of extra information 😉 Keep it in mind that some features are based on your rank.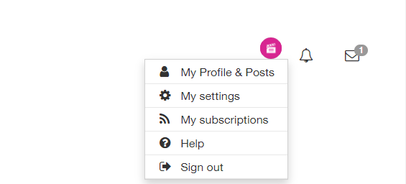 Your username:
This is something that is unique to you. If you want to change your username for any reason, reach out to the Mod team and we'll do this for you. Our only asks are 1: Don't use your mobile number 2: Keep it polite 3: Refrain from using the word Three or the number 3 in your username. The Moderation team keeps an eye on usernames, and may change your username if it falls into the above categories.
Your avatar:
Feel free to use one of our generic avatars or upload one to represent you. The guidelines here are; no personal pics and of course keep it polite. As always, the moderation team are here to help you and make sure avatars are appropriate.
Your 3Community Rank:
Ranks are a way to recognize and reward those who participate on 3Community. The higher the rank the more features you have to help others 💪 When you see a response from a high ranking member, you'll know straight away that they have a great level of experience.
You can rank up by;
Reading posts, blogs, ideas and other content
Starting topics on any of our boards
Taking part in topic discussions
Providing answers and accepted solutions to other community member's questions
Receiving Likes on your helpful posts
Your features;
Starting off, you have basic features such as
Starting a topic
Using @ mentions which links to members and content. We love this feature tagging "@All about My3 and billpay" looks like this

👇

Uploading photos and screenshots
Uploading videos or linking to YouTube
Give kudos or likes to helpful topics, posts, and blogs
Accepting a solution on your own topic, adding a small signature
When you start a topic or you are sending a PM, hover over the menu bar to know what each one does.

Shoutouts: as your rank changes, you get more features and permissions 👍 At the moment the feature to upload photos and videos is only available in desktop view.
Email a friend:
So you like the useful tips and tricks in 3MadeEasy and you enjoy the community support on our boards. Then why not tell a friend by sending a link to the blog or thread you found useful? There's a real easy way to do this!
Click on the options menu within that thread or blog, select email to a friend, then you'll be directed to a form where you fill out your friend's email address and have the option of putting in a personalised messaged ❤️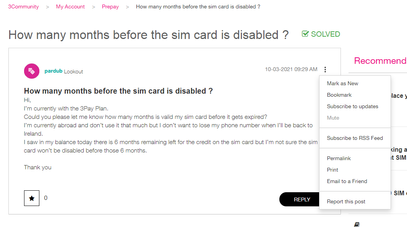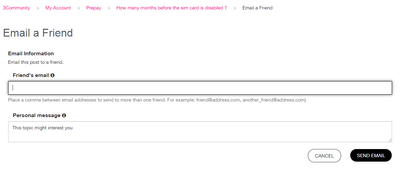 How to call a Mod:
Our members here are great at offering advice and helping each other. But sometimes there are things that only a Moderator can do. Check out our "What a Mod Does" below and if the answer to your question falls there then reach out to us.
All about: What a Moderator does
All you need to do is call us and we'll come running, well, as.quickly as our legs will carry us anyway 😉 Simply use the @ mention feature followed by Three_ and a moderators name.