3 Community Manager
Mark as New

Mark as Read

Bookmark

Subscribe

Email to a Friend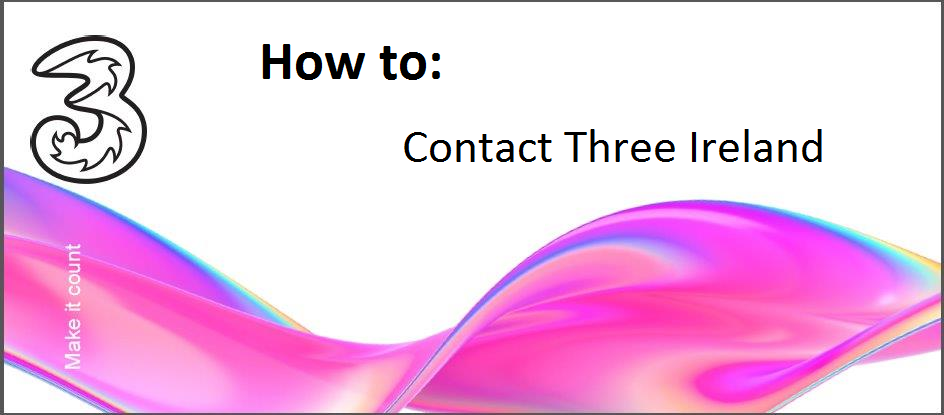 Need to contact Three? You can choose the method which suits you on your terms. Below are the ways you can reach us. Just remember, this community is open 24/7 and we have some pretty legendary superusers that love to help and they're Three customers just like you.
Read on to find out more about how to get in touch with us.
3Community

👍

My3 App Messaging and Web Messaging
1913
Facebook and Twitter
3Community 👍
Moderator opening hours: 9am - 5pm Mon to Fri.
We've put together help and support articles which you'll find in the 3MadeEasy section on our Community. In addition to this, you'll also find lots of useful info and tips from the Community members and answers to questions you have or had as a Three Customer.
We recommend searching the community for your question using keywords related to your issue. If you can't find an answer, then just reach out on one of the relevant boards by creating a new Topic Main boards. If you want more info on how to create a topic and use the Community, check out these guides here.
If you want to contact a Mod right away you can post a new topic and ask for the mods. Remember you'll need to post on the 3Community at least once, to be able to send a PM to one of the Mods.
My3 App Messaging and Web Messaging
Messaging and Live Chat Hours: 7am to midnight, 7 days a week.
Did you know that you can chat with a Three Expert in your My3 app? Send a message with your query, carry on with your daily life and we'll get back to you. Just open your My3 App and select the "Message Us" button.
You can also contact our Web Messaging team on your laptop, tablet, phone or desktop by using this link three.ie/chat/ . Make sure you have pop-ups enabled and just click the Chat Now button in pink. You'll see the pop up below on your screen.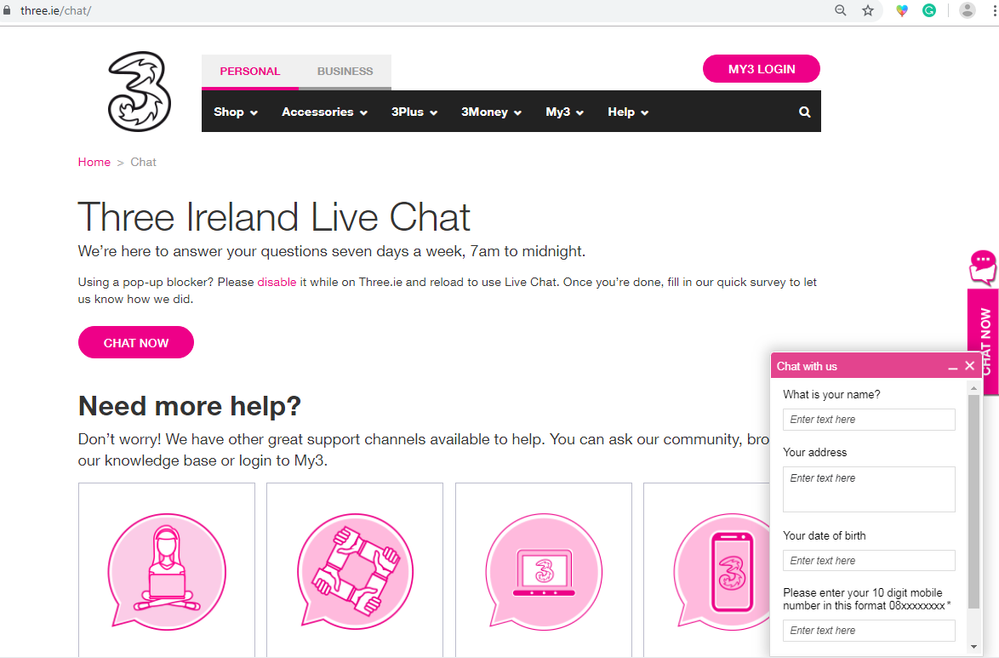 1913
Hours: 8am - 8pm, Mon-Fri and 9am - 6.30pm Sat & Sun and Bank Holidays.
Sometimes you might like to talk to somebody directly, and our customer care team is here for you. We can only discuss details of accounts with the named account holder or an authorised contact.
Call us on 1913 or if calling from abroad +35383 333 3333. You can call 1913 from any phone regardless of network and from landlines.
Business customers - please note opening hours are 8 am to 7 pm Monday to Friday ,and 9 am to 6.30 on Saturdays and Bank holidays (closed on Sundays).
When you call us, you'll hear a Three greeting and you'll be asked for your Three mobile or broadband number.
Enter your number.
Select 1 for payments and billing queries.
Select 2 for upgrades.
Select 3 for coverage, mobile broadband and unlock code queries.
Select 4 for SIM swaps.
Select 5 for everything else.
Facebook/Twitter
Hours: 9am - 8pm Mon to Fri, 10am - 6pm Sat & Sun and Bank Holidays.
Our Social Media team are on hand to help you. Reach out to us through a public post/tweet, PM or DM. Remember not to post your personal details (full name, number, address and date of birth) publicly! Sometimes we'll ask for these details to access your account and help further.
The response time is under an hour, so stay connected 😊 Posts/tweets out of hours will be responded to the following morning.
Facebook - https://www.facebook.com/3Ireland/
Twitter - https://twitter.com/ThreeCare
Thinking of becoming a Three Customer?
Are you considering joining our network? We have so much to offer; great phones, price plans to suit all, outstanding customer care, and our amazing customer rewards app 3Plus. Not to mention, we're the only network that offers All You Can Eat data.
Call us on 1800949546 and 1800949560 (freephone) to join Three and talk about our current offers for new customers. Hours: 8am - 8pm Mon-Fri, 9am - 6.30pm Sat & Sun including Bank Holidays.
5 Comments
You must be a registered user to add a comment. If you've already registered, sign in. Otherwise, register and sign in.