Your Prepay Plan Explained
If you have signed up to one of our latest prepay plans, read on to find out what's included in your plan, how to activate your plan and more.
What's Included in your Plan
Depending on whether you are a 3 Prepay 15, 3 Prepay 20, or 3 Prepay 30 customer, your plan will include different benefits. See the table below for each plan and its benefits.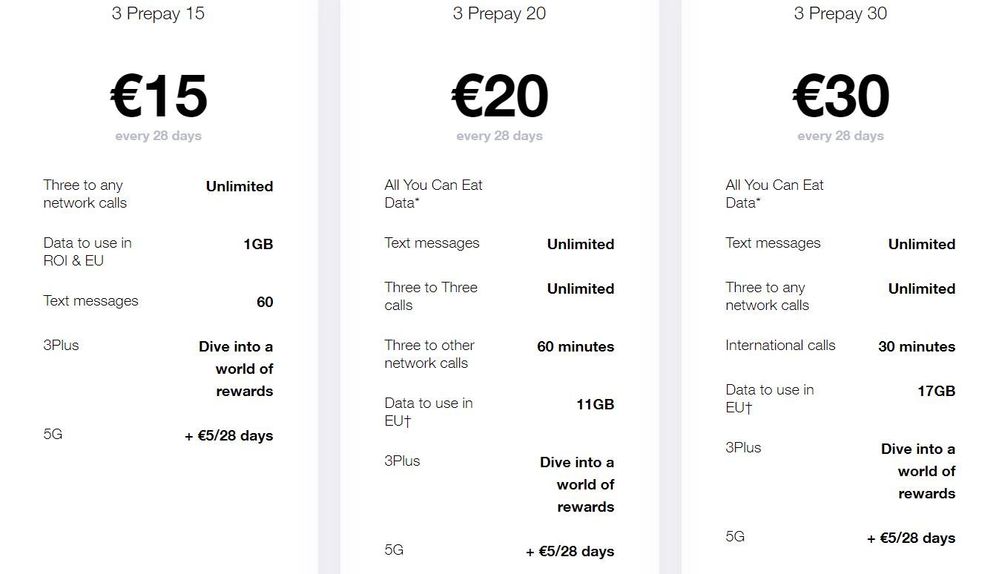 For more information on your plan pricing, see our Prepay Price Guide.
If your prepay plan is not listed above, it's likely because you're on one of our older plans. Visit three.ie/legal/pricing to find your plan and see your plan benefits, or text EVERYTHING to 50272.
What's Not Included in your Plan
Certain services are not included in our prepay plans, such as 3Pay services and Premium Rate services (e.g. charity donations). To use these services, you must have credit on your account.
Voicemail (1000 minutes) is included in our 3 Prepay 30 plan, but not in our 3 Prepay 15/20 Plan. If you are on the 3 Prepay 15 or 3 Prepay 20 plan, you can avail of a voicemail booster for €5.
Topping Up and Plan Activation
Our prepay plans require a top up every 28 days to activate your plan benefits. For example, if you have moved to our 3 Prepay 20 plan, a €20 top up is required to activate your plan benefits (unlimited texts, unlimited Three calls, All You Can Eat data and more).
Click here to see all the ways you can top up.
If you top up by €20, your account will be debited €20 to activate your plan. Your balance will then be €0. If you still require credit on your account for additional usage not included in your plan benefits, (e.g. voicemail) we recommend topping up by less than your plan activation amount (e.g. €5/10/15) or purchasing one our boosters.
If you top up by €20 before 28 days is up, your plan will re-activate and your remaining allowances at the time of top-up will not carry forward.
Don't forget – you can set up a scheduled top-up on My3 to ensure your plan automatically reactivates every month. To get started with My3, see My3 Overview.
Checking your Balance
To check your balance, text BALANCE to 50272. Alternatively, log onto your My3 account.
If you're wondering how your credit is being used, check your My3 account or see Credit Use Explained.
Out of Bundle Rates
If 28 days has passed since your last top-up, and you have not topped up since, you will be charged out of bundle rates for calls, texts, and data. We will send you a reminder via SMS before your plan expires to remind you to top up.
For more information on out of bundle rates, see our Prepay Price Guide.
Still need help? Ask our 3Community or contact our messaging team.