3 Community Admin
Mark as New

Bookmark

Subscribe to updates

Mute

Email to a Friend
Is something out-of-place?
Do you know when you get the feeling that something is out-of-place, and you just can't put your finger on it? I'm not talking about something eerie or sinister, but something is different, your spidey senses are tingling. Like when your Dad has a feeling that your mother has changed something (possibly her hair?) but refuses to comment just in case he's wrong.
Well, the other day I had that same gut feeling. I'm no expert with the camera on my phone, and honestly, I'm surprised I captured this shot because I couldn't see my screen from sun glare.
I'm asking 3Community members to decide if it's the blue sky or the 3 planes that's the "something is out-of-place"? Comment by replying to the post below.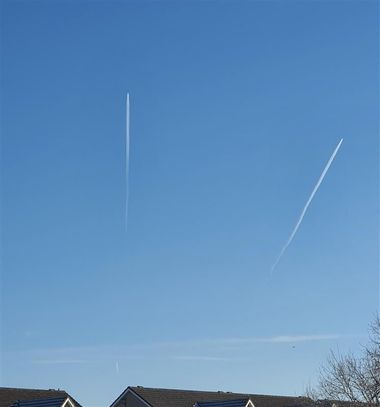 Tip of the day: Before heading to the hairstylist next month – fingers crossed – proudly announce to your SO that you are heading to the hair salon. When you get back home; loudly announce that you're back from the hairstylist. He/She should take the massive hint and say "your hair is lovely, did you do something to it" 😍