3 Community Admin
Mark as New

Bookmark

Subscribe to updates

Mute

Email to a Friend
Love my Kindle Paperwhite
Recently, we put together a very interesting blog entitled How Do You Read Yours? discussing some different methods of reading a book in today's modern world. It got me thinking about how much I use my Kindle and how lost I'd be without it.
I have a Kindle Paperwhite, 7th Generation. Yes I know, the Kindle is up to 10th generation and the last release was in 2019 but mine, is still in perfect condition, is extremely light and easy to hold. The 6-inch screen is perfect, and it also has a backlight, very convenient when you don't want to turn on an overhead light or lamp. Battery-wise, mine lasts weeks! And I read on it almost every evening so no complaints there.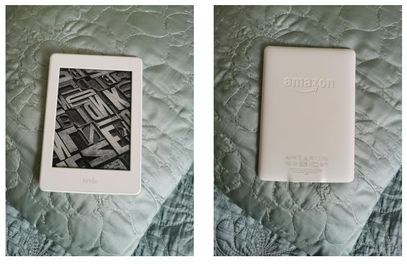 The Books!
Picking the right book or your next book can be tricky! Check out the 'goodreads' tab on your dashboard which will give you suggestions based on your current library. Very handy, the suggestion link brings you to the Kindle Store where you purchase or download your book for free.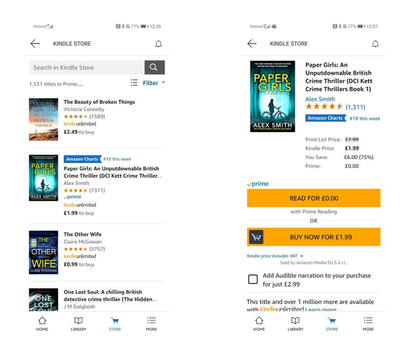 For those of you who don't know, Kindle Unlimited isn't your only option. If you look closely at the screenshots, you see Prime? This indicates the book is available on Prime Reading which is a subscription that's included with Amazon Prime. Have a look at your Prime tab, it's worth exploring;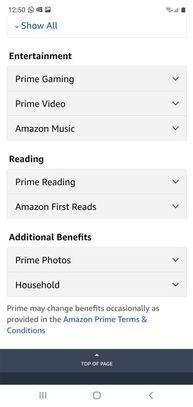 Because your Kindle links directly to your Amazon account you can log into your Amazon account via your Kindle or any other device, make your selection and complete your purchase. Your new reading material will appear in your library within minutes. This is true for both Kindle Store, Kindle Unlimited and Prime Reading. Shur Look, 1000's of books at your fingertips, what an age we live in 😁
@Three_Deborah swears by spending that extra for an Amazon Prime membership! How about you, our Community members, do you have Amazon Prime? Are you using it just for Prime Video or something else? Or maybe you've love Kindle Unlimited. Let us know ❤️
@billbond4 @Donegal-3 @RainbowRuth