3 Community Manager
Mark as New

Mark as Read

Bookmark

Subscribe

Email to a Friend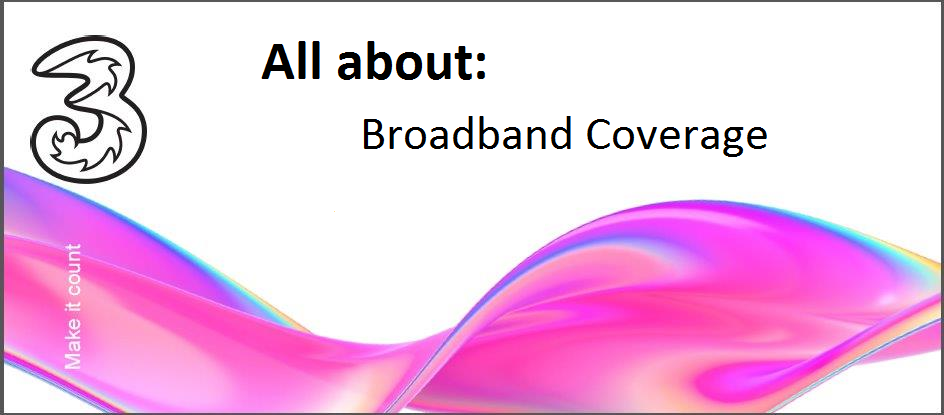 How important is home broadband to you? If you're like all of the 3Community Mod team, you probably rely on your broadband for the likes of TV streaming, shopping, online gaming, Alexa, Google home and much much more! Oh did you know that Alexa can top-up your Prepay number, the world's first voice assisted top-up have a look Some of us can remember a time when broadband wasn't even a thing, but that doesn't mean we don't want to do without it. Just try telling my Dad ( over 65) that he can't use his xBox for online gaming. Whether your 65 or 5, we're all connected. With this in mind, we know our network is vital to keeping you connected with access to unlimited broadband.
When your broadband coverage or connection isn't quite right, there are a few steps that you can take. Have a look at the below and follow each step and be sure to check out our DeviceSupport section for our interactive guides.
Restart/Reset your modem or router: The IT Crowd say this for a reason. To restart your broadband modem/router, just power it off and back on. You may have to do a reset and here is how you do that on our 3 most popular broadband devices.
Tip – leave the power on while resetting;
B525 : There is a tiny hard reset button on the rear of the device next to the RJ11 port ( the yellow ones). The router will automatically switch off and then back on. Give your broadband router a few minutes to pick up signal and remember; once it's rebooted it will have been reset to its default settings.
E5573 and E5577: Taking off the back cover and leaving in the battery, the 'Reset' button can be found along the edge below the power key. You might need a pin. Press Factory Reset button and hold for at least 15 seconds. The modem will automatically switch off and then back on. Once it's rebooted it will have been reset to its default settings. Give it a few minutes to pick up full signal
Check the coverage in your area: We have a vast network that we are continually improving, however, there are areas where 4G may not be available or that 3G is the strongest signal indoors. Use our coverage checker to find out what service is available at your home (http://www.three.ie/web/coverage-checker/)
Adjust your settings: By using the coverage checker, you've just found out the 3G is indeed the strongest signal in your area. Here's what you need to do next :
Open a browser

In the URL box, type in 192.168.1.1

or 192.168.8.1

Log in to your home page, using admin as the password

F

ind

Network Setting

on the top of the page.

Select

Mobile

Network

on the left-hand side.

Select

Mobile Network Searching

Preferred mode :

Change it to Manual

Select 3G Only from drop-down

Click apply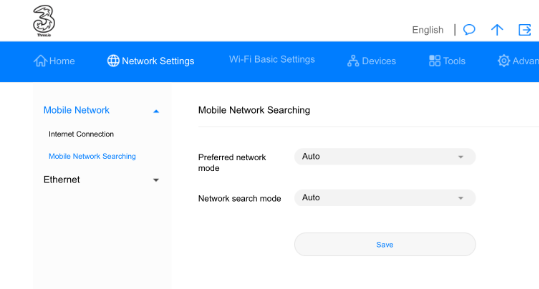 Change the frequency band.
2.4GHz has a better range and travels farther. This needs to be considered if you live in a large house. 5 GHz has a shorter range and is best-suited for high bandwidth devices and activates. Because it has a shorter range getting one of our TP-Link WiFi extenders might be an idea click here
Log into your modem settings (192.168.1.1 or 192.168.8.1)

Once logged in, click

Wi-Fi Basic Settings

on the top bar

If 2.4GHz is enabled - disable it - enable 5GHz

Vice versa if 5GHz is enabled - disable it - enable 2.4GHz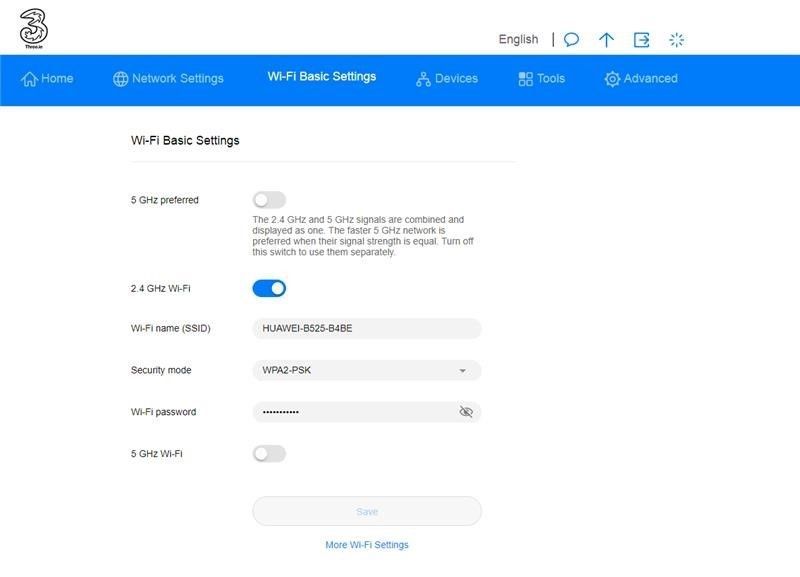 The last setting you can adjust is the channel you are using. This is set to AUTO by default, what you do is to select channels at random until you find the one that is best for you. You see the "channels" right under 2.4GHz and 5GHz selection by clicking "Advanced" than choose the "Channel" drop-down menu.
Click Advanced in the tool bar at the top

On the

left hand

side select

Wi-Fi

Next select

Wi

-Fi

advanced

settings

You'll see that the channel is set to auto

Using the drop-

down, select

the desired Channel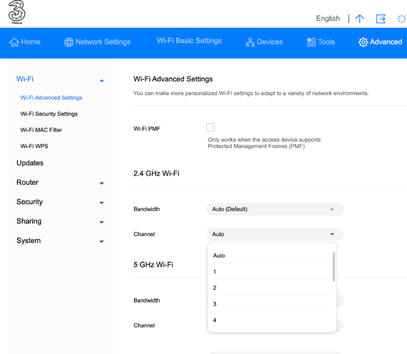 Other things to consider are:
It's always good to check your message inbox while in the router homepage.

Updates

are sent from time to time and notifications are sent there.

Go to "advanced" and updates are on the left-hand side.

Tip: you might have heard of spend alerts, you'll find these, and other communications from Three in "too

ls".

We recommend that you update your

SIM

at least every 18 months to 2 years. The humble SIM is a piece of technology and can sometimes become faulty. If you haven't updated yours in a while, order a new one here

👉

click here
We can't eliminate a fault with your router from this side here. One way to check this is to use your broadband SIM in a different device. If the connection is good, then all signs point to the router. You might be able to avail of our repairs click here

or upgrade.

Don't rule out a PC or Laptop problem. Have you checked your RAM for example? Do you have enough? D

o you have too many

open apps

?

W

hen was the last time you did an update

? When was the

last

time you powered off your desktop/laptop fully?

Have you

clear

ed

the history as too much can slow down your

browser?
Need more help?
If the above steps haven't helped, there is a possibility that there is maintenance being carried out in your area, or a fault on the mast we need to investigate. Please get in touch to let us know that you've tried the above by posting the answers to the below questions by creating a topic:
Are your friends and neighbours experiencing this too?
When did you start noticing this?

How many bars of coverage do you see, and what letter is beside them? ie, 3G, 3G+, H, H+, 4G or 4G+

Is your broadband connection worse at particular times of day or week?

What type of router are you using and how old is your SIM card?

Can you do random

speed

tests

at different times of the day? We recommend

Ookla

.
Tell us your general area so we can check the masts there.
Pop the answers to the above in a new topic in our broadband section over here . This way, your post is public for all to see, and other members in the same area can join in if they've noticed changes too. With the help of 3Community, the more examples and info we have to pass onto our tech team will be a huge advantage in identifying the root cause of any faults in the area.
If you have any suggestions on how we can improve this list, pop over to our suggestions board and if this post has helped you, please click 'Like'!
You must be a registered user to add a comment. If you've already registered, sign in. Otherwise, register and sign in.