:

:

All about: Unlocking your phone or router
All about: Unlocking your phone or router

3 Community Manager
Mark as New

Mark as Read

Bookmark

Subscribe

Email to a Friend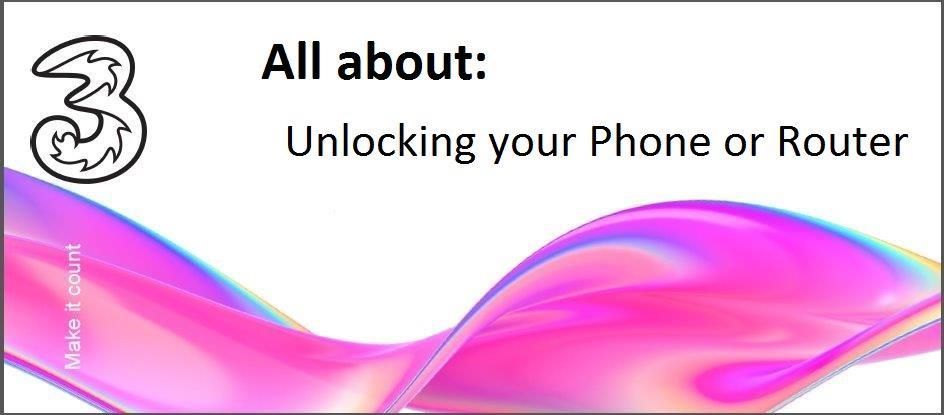 We all love the feeling of something new like a phone or router- but what to do with your old ones? Maybe you want to gift it to a friend or relative. Who knows! No matter what the reason is; here are some tips for unlocking your phone or router.
Before requesting your unlock:
Your phone/router may not be network locked. Try a non-Three SIM in your phone/router before submitting an unlock request. If you get a signal with this SIM, then you won't need to unlock your phone.
Make sure your phone/router is eligible to be unlocked. There is different criteria for Billpay and Prepay, just so you know there is slightly different criteria for new and legacy plans too. Full info click here
Back-up your data: This is so important and often overlooked. If you have photos, videos, music, or other data saved on your phone, you won't want to lose them once you give your phone away. The easiest way to avoid this is to use a cloud storage app such as iCloud, Google Drive or DropBox, Alternatively, you can easily back up your data by transferring it manually (using a USB cable or memory card) onto a laptop or PC.
How to unlock your phone/router
This couldn't be easier 😊 Once you've made sure your phone isn't already unlocked and you meet the criteria, all you need to do is follow our unlocking form online. click here You'll need your IMEI, phone: dial *#006# and router: on the sticker under your router. For extra security, we'll send you a verification text that you need to confirm before filling out the form. If you are unlocking a router, you'll find the verification text in your router dashboard.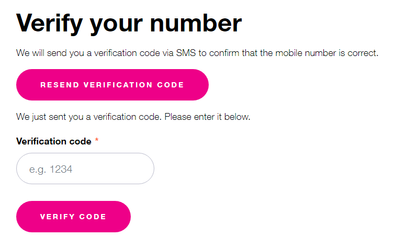 What's next?
Our unlocking team will verify the details you've submitted against your Three account and contact you via email, usually, within 2 days. This email is to confirm whether you are eligible to have your phone/router unlocked.
Depending on the manufacturer, it might take up to 20 days before you can unlock your device. Keep this in mind Keep this in mind! Check the turnaround times by clicking here
There are occasions where Billpay customers have moved to Prepay and have kept the same phone. But now your phone will automatically fall under Prepay criteria. Is this you? If so, contact us directly.
Unlocked successfully
So we've contacted you with the news that your phone has been unlocked, or you have been provided with the unlock code. Super! The next step is important to get right because unlock codes can become void if used incorrectly too many times. The process is slightly different from each manufacturer but generally- speaking, it can be divided into Three categories: iPhone , all other phones and routers.Tip: you'll need a non Three SIM to fully unlock your device.
For iPhones: insert non-Three SIM and simply connect the phone to iTunes. Apple have unlocked your phone remotely so once you connect you'll see a message like 'iPhone network unlocked' – easy!
Other smartphones: Turn your phone off and insert a non-Three SIM. Turn it back on and you will be prompted to input a 'Network Unlock Code' – or something similar. That's the code we sent you - pop it in and the phone should start as normal. Your job is done!
How to Unlock Huawei router Follow the steps below to unlock Huawei modem/router. Note: It can take up to 20 working days* to get your Huawei unlock code.
Insert a SIM Card from another network into the modem
Connect the modem to your computer and type http://192.168.8.1 into the address bar
Log in as usual and it should pop up a Simlock page
Enter unlock code where it says SIMLOCK Code and the device should be unlocked
Note: If the popup doesn't appear then go to: Settings > Advanced Settings > SIM Settings > Unlock Device
Enter unlock code where it says SIMLOCK Code
An extra tip
If you're gifting your phone to someone, you don't want it to have all your information on it, plus it's nicer to gift a clean phone the person can call their own. Double-check that all your personal data is backed up and perform a manufacturer reset.
Android, go to Settings > About > Reset >Erase All Data (terms may differ slightly from phone to phone).
iPhone, go to Settings > General > Reset > Erase All Content and Settings
If you have any questions on phone unlocking, Get in touch on our Community or feel free to PM a mod who can also help. If you need a new SIM for your new phone, see here.
You must be a registered user to add a comment. If you've already registered, sign in. Otherwise, register and sign in.