:

:

Transferring your Data to your New Phone
Transferring your Data to your New Phone

3 Community Manager
Mark as New

Mark as Read

Bookmark

Subscribe

Email to a Friend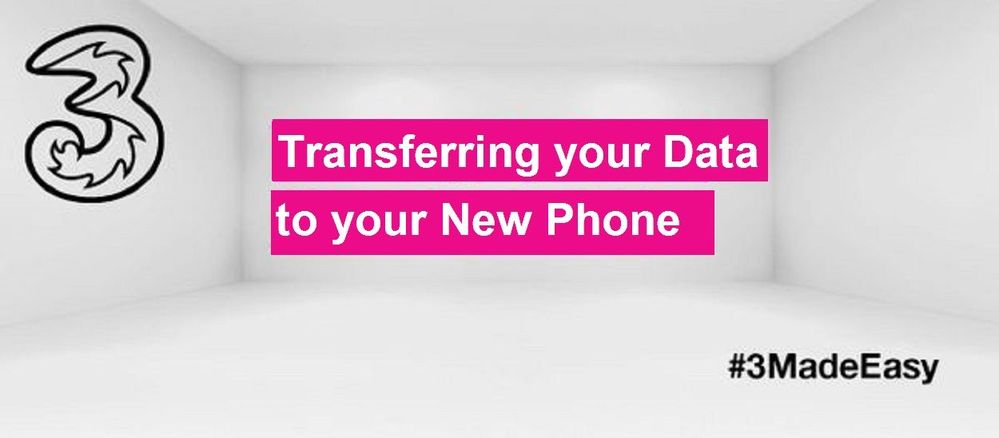 Bringing your old phone's data with you is simple. Before you start, make sure both phones are connected to WiFi and plugged in, then follow the steps below.
Android to iOS
Tap Move Data from Android
When setting up your new iPhone, look for the 'Apps & Data' screen. Tap 'Move Data' from Android.
Note: If you have already finished setup, you can either transfer content manually or erase your new iPhone and start again.
Open the 'Move to iOS' app
On your old Android device, open the 'Move to iOS' app and tap 'Continue'. Once you have agreed to the terms and conditions, tap 'Next' in the top-right of the 'Find Your Code' screen.
Wait for a code
On your iPhone, tap 'Continue' on the 'Move from Android' screen. Wait for a code to appear.
Enter the code
Enter the code on your old Android device and wait for the 'Transfer Data' screen to appear.
Choose your content
On your old Android device, select the content you want to transfer and tap 'Next'. Then, even if your old Android device indicates that the process is complete, leave both devices alone until the loading bar that appears on your iPhone disappears.
Set up your iOS device
Once complete, tap 'Done' on your old Android device. Then tap 'Continue' on your new iPhone and follow the on-screen steps to finish.
Finish up
Make sure all of your content transferred. Music, books, and PDFs need to be moved manually.
iOS to Android
Download Google Drive
Download Google Drive to your iOS device and sign in with your Google account. If you don't have a Google account, you can create one now or when you sign in to Google Drive.
Begin Back-up
Make sure your phone is plugged in and connected to WiFi before you begin.
Open 'Google Drive' Back-up Wizard by selecting: Menu > Settings > Back-up.
Choose what you want to back up, or back everything up by clicking 'Start Back-up'.
Sign in on your Android device
Sign in to your Google account on your new Android device. Use the same account you used to back up your iPhone.
You should now be able to recover your data using Google Drive.
Transfer tools
There are some helpful tools to make the transfer easier.
Moving to Apple
Download "Move to iOS" from Google Play on the old phone.
Moving to Samsung
Download "Samsung Smart Switch" from Google Play on both phones.
Moving to Huawei
Download "Phone Clone" from Google Play on the new phone.
Moving to any device
Download "Copy my Data" from Google Play on the new phone.
Hope this helps! if so, give it a Like below
You must be a registered user to add a comment. If you've already registered, sign in. Otherwise, register and sign in.