:

:

All About: Prepay Broadband
All About: Prepay Broadband

3 Community Manager
Mark as New

Mark as Read

Bookmark

Subscribe

Email to a Friend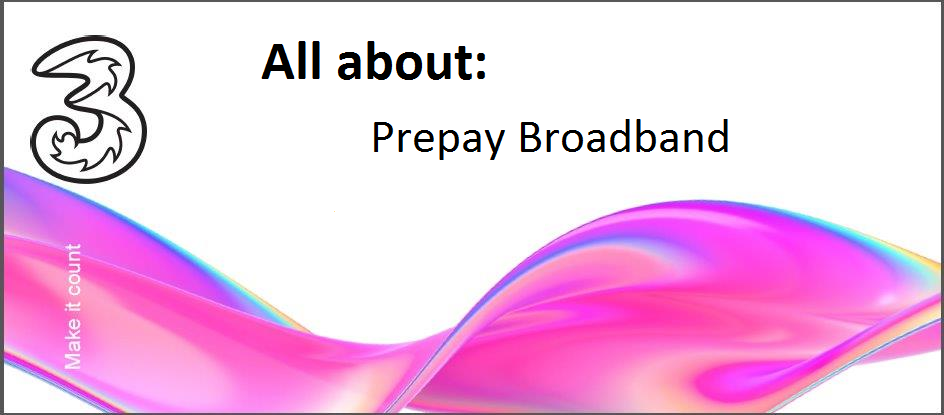 Are you thinking of purchasing a new broadband connection? Most of you already know that at Three we have a fantastic mobile broadband plan on Bill Pay. It's not your only option, and I'm here to tell you all about our Prepay Mobile Broadband plans.
Getting Started
We have a new Prepay Mobile Broadband plan and some legacy plans (no longer available for sale). Why don't you take a look at our fantastic new 30GB Prepay plan today? 👉 click here. You can choose to use your existing modem or router or you can purchase a new Huawei B535, E5577 or E5573. Take a look at our Online Shop.
Our new 28-day plan gives you 30GB of data for €30. The price plan activates itself when you top-up by €30 or more. The €30 is deducted from your credit balance and your 30GB of data is added to your allowance. It's really that simple.
Legacy Prepay Mobile Broadband plans.
Some of you might have a legacy plan that requires an add-on or a pass to activate the data allowance. If so, how you do this has changed slightly. And as always, we're here to help 💪
Depending on your plan there are up to 5 add-ons or passes to choose from. You can view these by logging into your My3 App, scroll down and select Manage Services. Here you'll the pass available to you. Simply select "add" in pink. The credit will be deducted and the allowance applied to your broadband account. Each add-on or pass lasts for the outlined duration, or until your data is used, whichever comes first. Once you've purchased the add-on or pass you'd like you're good to go 👍
Topping up
When you 28 days expires you can top-up easily on My3 where you can register your credit or debit card and you can also set up a scheduled top-up. With Instant Top-Up you can top-up yourself or someone else instantly. You don't have to login or be a 3 customer, all you need are your card details and the number you want to top-up.
Have a look at our Topping Up Made Easy guide for more info on top-up methods.
Changing Plan
Already on our legacy Prepay plan and want to change to our new 30GB plan? Simply log into My3, select your plan and then 'Change Plan'.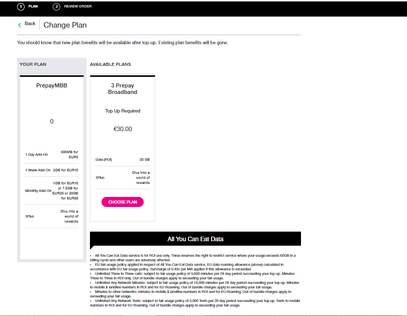 Have a question? Let us know on our Prepay discussion boards 👉 3Community
Tired of topping up? Check out our Bill Pay plans.
You must be a registered user to add a comment. If you've already registered, sign in. Otherwise, register and sign in.