3 Community Admin
Mark as New

Mark as Read

Bookmark

Subscribe

Email to a Friend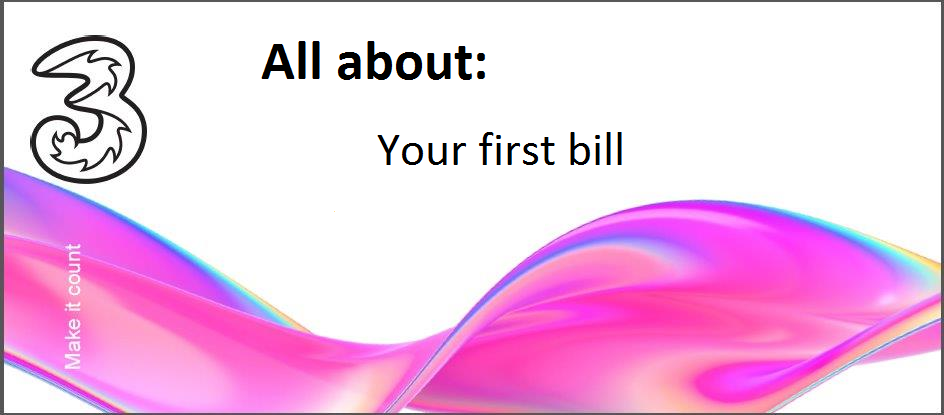 Welcome to 3 and your new Bill Pay account. It's possible you're already familiar with billing terms and the layout. If not, we've got you covered and have put together this guide to help you understand your very first bill and terms you might hear from time to time.
First things first; our plans; phone, broadband, SIM Only and add ons, are pro-rata, which means you are billed a month in advance. Your billing cycle date – the start of your billing month, isn't the first day you sign up to 3Billpay but starts 3 to 6 days later. This is also true for add-ons and insurance.
What does this mean for you?
It means your first bill will be higher than the cost of your plan ( monthly price plan charge). You will be charged a portion amount for the first 3 to 6 days and your full monthly recurring charges for the month ahead. ( plan, add-on, insurance)
What will you see?
Just to call out that if you are receiving paper bills don't forget that some pages are printed on both sides. You can always opt-in for e-billing. Plus you may have signed up for a summary bill, which will not include the full breakdown of your usage.
Front page > Some of the usuals; bill period, account number, Bill date, bill number, phone number, address and your TOTAL MONTHLY CHARGES
Second Page > a breakdown of the general layout of your bill Understanding your Paper Bill
Third page > account level breakdown. This view can vary depending on how many subscribers are on your account.
Fourth page> full breakdown of monthly charges, including the plan, add-ons, insurance, and any once-off charges for the cost of your phone. (ex-Vat)
Following pages> shows your usage for calls, text, data plus any out of allowance charges.
Do you have an example?
Yes we do! 😊
So you've signed up to a 24-month contract on one of our plans, click here, you decided to pay for a top-of-the-range phone and you opted in for insurance too 💪 And you have just received your first bill. Here is an example of the full breakdown of monthly charges. You can see the charges for the few days between signing up and then the charges starting on your billing cycle date.
Here, you'll also notice your Inclusive Allowance section. This shows your allowances and usage of these allowances for the previous month. In this example, the units granted are based on the portion of the month from February 1st to February 6th, so roughly one-sixth of your expected monthly units going forward.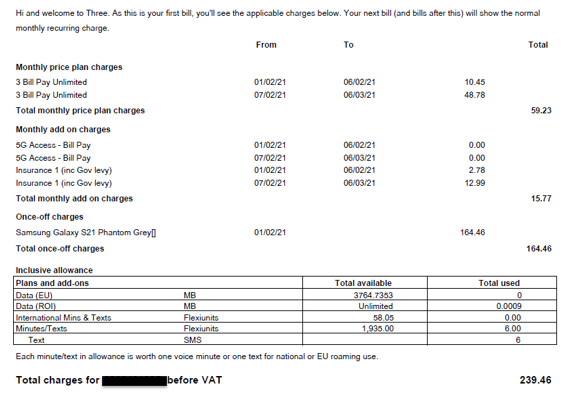 Frequently used terms
Total monthly charges: total cost for your plan, add ons, insurance, 5G access and any once off charges.

Billing Cycle Date: the day your price plan and allowances start

Bill date: the day your bill is generated

Direct Debit date: 19 days after your bill date and when payment is due

Subscription charges: Amazon Video, music and Kindle plus much more Subscriptions
Add-ons: when you're in need of extra minutes, texts, data or 5G bundle more here

Once off charges:

phone charge, 3Pay , content subscription, non direct-debit fee.
Have a question or want to add a tip? Pop over here to ask the Community. If you are new to 3Community remember to check out our blog on getting started 👇
You must be a registered user to add a comment. If you've already registered, sign in. Otherwise, register and sign in.