3 Community Admin
Mark as New

Mark as Read

Bookmark

Subscribe

Email to a Friend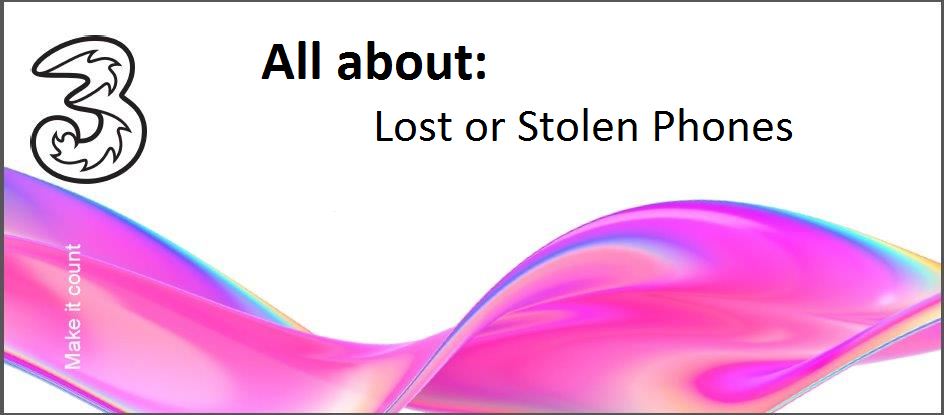 We've become dependent on our phones for everyday tasks, photos/videos, and entertainment and sometimes, no matter how careful we are with them, the worst happens! We lose our phone or it's stolen. Remember, that Three and your 3Community are here to help if this happens to you.
Here's what you should do:
Try ringing the phone or checking the nearest Garda station – they are honest people and someone may have handed it in.
If you have Find My iPhone (Apple), Find My Device (Android) or My Phone (Windows), you may be able to track the location of your phone. As well as using GPS to track your phone, these apps also allow you to play a sound from the device or broadcast a message onto the phone's screen, in case anyone finds it. You can also lock your device remotely so no one can access it and even erase your phone's data so your personal information remains safe.
So you've tried the above steps to no avail, you should do the following:
Contact us by PM or web messaging to report your phone as lost or stolen. We can then suspend your account to ensure no further unauthorised usage. We can also blacklist your device so that no one else can use it.
Report the loss or theft to your local Garda station.
If you have insurance, contact your insurance provider directly to make a claim. You'll need to provide proof that you have reported the incident to the Gardaí within a certain timeframe (generally 24-48 hours). Usually, a member of the Gardaí will need to stamp and sign your insurance claim form.
If you have insurance with Three SOS, here's how to make a claim.
What next?
Found your phone? Just contact us via web messaging or send your Mod a PM, and we can remove the block on both your account and phone.
If you haven't found your phone 😢 , you'll need to get a replacement SIM along with a replacement phone. When you get a replacement SIM, all your account details will move over on to it. This way, you don't have to get a new number. Have a look at our #3MadeEasy blog for more info about ordering and activating a new SIM. click here
Don't forget, the 3Community is open 24/7 to offer you help and support. Our Community Moderators are a lovely bunch! If you want to check out who they are you can click here 👉 #MeetTheMods
We are Online: Monday to Friday from 9 am to 5 pm
You must be a registered user to add a comment. If you've already registered, sign in. Otherwise, register and sign in.