3 Community Manager
Mark as New

Mark as Read

Bookmark

Subscribe

Email to a Friend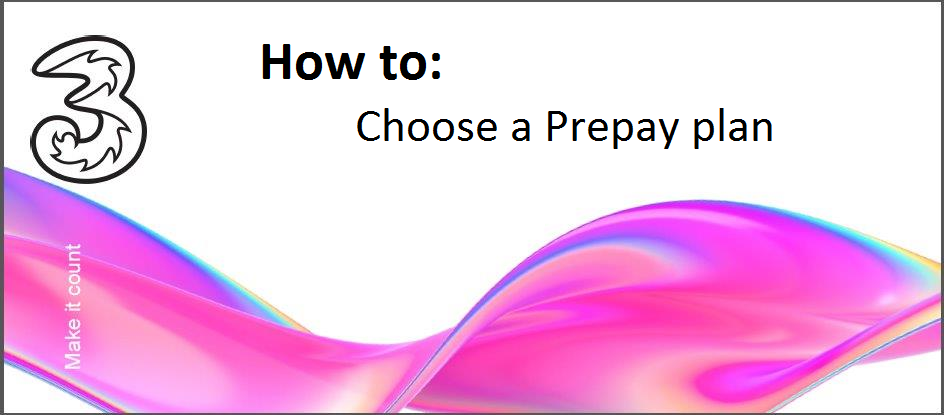 Thinking of changing your price plan or want to know more about the plan you're currently on? You've come to the right place, read on for all the information you could possibly need on our fantastic Prepay plans 😃
The Plans
Firstly, we have some legacy plans. To check if you are on a Legacy plan have a look at your plan name on My3 and then click here for more details on those plans 👌
Now we have a fantastic new suite of plans! There are 3 Prepay plans available and you can check them out online by clicking here and also have a look at our blog to find out which include All You Can Eat Data.
All about: All You Can Eat Data with Three Prepay
Which plan is best for you?
When it comes to choosing the plan that's right for you there are 3 main things to consider – calls, texts and data. Take a look at your usage in the 'Top Used Allowances' section in your My3 account to help you decide which plan will work best for you.
Tip: if you use a lot of data then go for a plan with All You Can Eat Data, watching Netflix on your phone can use at least 1GB and up to 3GB in the space of an hour.
Changing your plan
See the plan you want? Excellent, time to change over. Here's what you need to do:
Log into your My3 account.
On your dashboard, you'll see the 'Your Plan' section. Below your current plan, you'll see the option to 'Change Plan' (see Step 1 below)
Click on 'Choose Plan' beneath your chosen plan (Step 2)
You'll then be brought to the 'Review Order' page where you will see your existing plan and the plan you're changing to (Step 3)
At the bottom of that screen, you'll have the option to 'Confirm & Top-Up' or 'Cancel Order' (Step 4)
Click on 'Confirm & Top-Up' to proceed and follow the steps to top-up by the required amount.
Your plan will change over within minutes

👌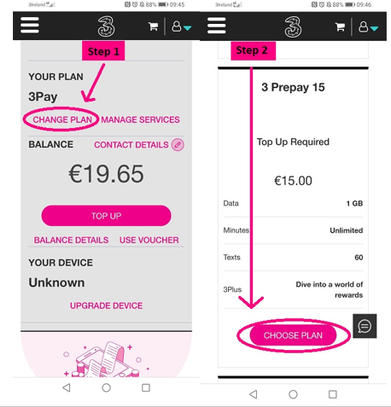 Points to note
When you top up by the minimum amount required for your plan that minimum top-up is then reduced for all the lovely allowance you get.
Once your 28 days have passed further usage charges will apply. Simply top-up again by the required amount to reactivate your price plan benefits.
To view the charges outside your plan take a look here.
Our legacy plans are no longer for sale so once you move over to our new suite of plans you may not be able to switch back.
Any unused credit shall expire 180 days following voucher activation or application of credit to your account. This 180 day expiry period also applies to any credit on your account which has been accumulated on other Three prepay plans if you move to the Plan. However, any promotional bonus credit applied to your account as a bonus for customers who meet eligibility criteria as provided by Three for various promotions will have an expiry period of 30 days, unless otherwise advised by Three in a particular promotion.
Got a question? Search the Community; it's possible that you'll find your answer there. If not, why not start a new topic? Remember, the Community never sleeps 😊
You must be a registered user to add a comment. If you've already registered, sign in. Otherwise, register and sign in.