:

:

Premium Rate Services: FAQs
Premium Rate Services: FAQs

3 Community Manager
Mark as New

Mark as Read

Bookmark

Subscribe

Email to a Friend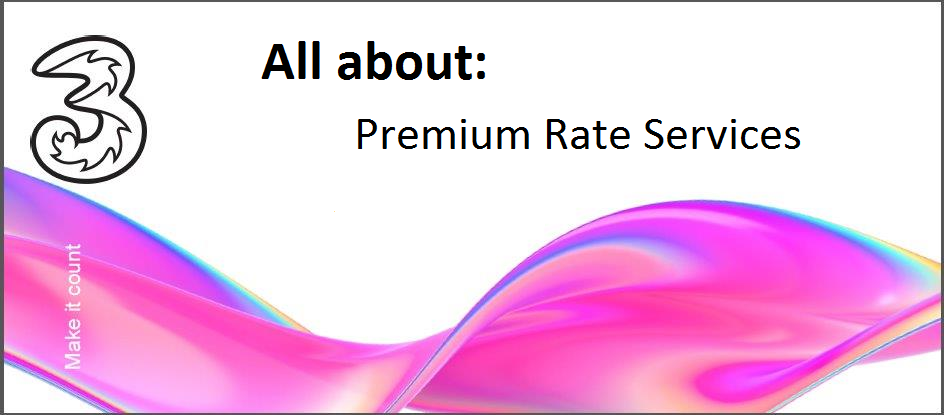 If you're wondering where your credit has gone or what the charges on your bill are for, they may be a result of premium services.
Premium rate services are any calls or texts from private companies which cost more than the standard rate. Examples of premium services include TV voting (e.g. The X Factor), text charity donations, competitions (e.g. The Late Late Show) and other entertainment services.
Calls
Premium rate phone lines generally operate on 15XX numbers. Calls to premium rate services cost more than standard calls.
Texts
Premium rate text services are texts to and from five-digit short code numbers (e.g. 53XXX or 57XXX). Sending a text to a premium rate service will cost more than a standard text. It's important to note that you will be charged for receiving these texts also, and some of these services are subscription services that send texts regularly.
What are the charges for premium rate services?
Charges for these services vary depending on what service you are using, your service provider and what number you are calling/texting. For example, calling a 1513 number costs 70c per minute and 1590 number costs €3.50 per minute.
For a full breakdown of charges for premium rate services, see Three's Price Guide.
I'm receiving premium texts – how do I stop them?
If you are receiving premium service texts, text back STOP to the five digit number you are receiving texts from. It may take between 24-48 hours for the company to unsubscribe, after which you should no longer receive any messages from them.
Can I get a refund of these charges?
For those of you wishing to dispute this subscription, contact help@pfi.me via email and include the short-code (5-digit code) you are being charged for. We would recommend, if available, that you share details of dates/times of charges incurred as per your bill/usage display.
How can I check if a number is a premium rate service?
ComReg have a handy tool on their website that allows you to look up unknown names or numbers on your bill and check if they are a premium rate service. You can also find more info about premium rate services at comreg.ie/premium-rate.
How can I avoid these charges in the future?
To avoid being charged for premium rate services in the future, we recommend:
Carefully read the terms and conditions before texting to enter a competition, voting in a TV show or using a chatline or any other type of entertainment service.
Be wary of anything advertised as free that requires you to call or text to claim.
Keep an eye on your credit or allowances via your

My3 account, to ensure you are not being charged more than expected for your calls and texts.
How can I remove Premium Services from my number?
Three customers now have the option to request blocking of receiving premium services.
However just to note this will block all premium services by text.
Examples Include:
TV Voting (e.g. Dancing with the Stars, The X Factor)
Quizzes and competitions (e.g. The Late Late Show, local or national radio competitions)
Charity donations
Digital content (e.g. music, videos, wallpapers, games)
Psychic or other entertainment services
*Remember* This will also include premium voice calls
If you'd like to cancel premium services on your account here, you can post a new topic or contact one of the mods directly. We will need your account details (name, number, address and date of birth) and we'll do the rest 😊
If you have a question about your bill, check out Understanding your Paper Bill. Alternatively, get in touch with us via webchat.
If you are receiving calls from unknown international numbers, take a look at Spam, Scam and Phishing Calls.