3 Community Admin
Mark as New

Mark as Read

Bookmark

Subscribe

Email to a Friend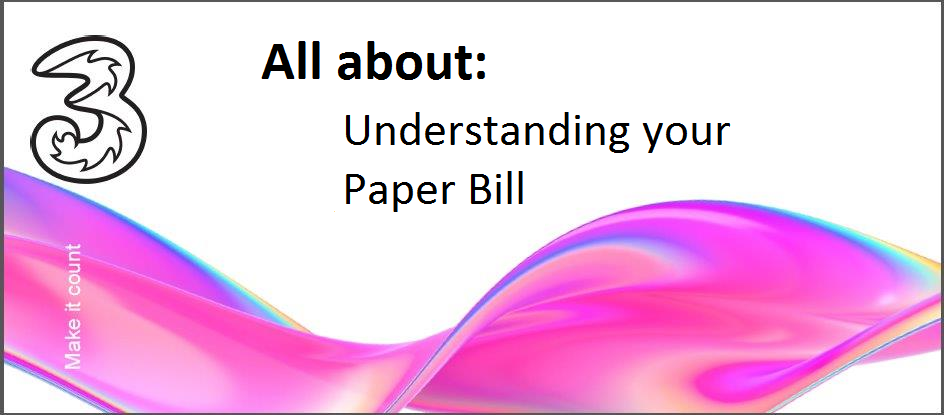 Unless you've signed up for paperless billing, if you're a Three bill pay customer you'll receive a printed bill every month. If you need some help understanding some of the terms on your bill, we've broken it down for you below:
If you have signed up for paperless billing, you can still see your printed bill via PDF. You can do this by logging into MY3. From there go to Billing & payments > View your Previous Bills. At the bottom of the page, you will see 'My bills', with the option to 'Print PDF'.
Page 1 Explained
At the top of your bill, you'll see the following information:
Your account number is the unique number associated with your account. If you contact us regarding your bill, this is the number you should mention to us.
Your bill number is the unique reference number for your bill.
Your bill date is the date your bill is generated.
If you have an account with more than one number, this will display under 'number of connections'.
Next, you'll see your bill breakdown – here's an explanation of each line:
Since your last bill

This section displays the amount of your last bill, as well as any payments received* on your account since your last bill.

Balance brought forward

If we didn't receive a payment for your last bill, the balance will be displayed here.

This month's bill – your charges

Monthly charges** shows the cost of your price plan (e.g. €40 per month).

This section will also include any once-off charges.

Usage charges

This shows any charges incurred outside of your price plan, such as calls to premium numbers. For a detailed explanation of these charges, see here.

Total before VAT

This amount is the total of all the above charges before VAT is applied. VAT is applied to all bills unless you are a VAT exempt business customer.

Total due amount

This the total amount of your bill plus VAT.
*If you make a payment after the date your bill is issued, or if you make a payment via post office, it can take 7-10 days to process, so this may not be reflected here.
**Depending on your plan, you may be charged pro-rata. This means you are charged for your monthly plan in advance.
After this section, you'll see a bank giro. This bank giro can be used to pay your bill by post, in your local post office or in your bank.
Page 2+ Explained
Page 2 onwards of your bill is a detailed breakdown of your bill charges and usage. Here you can see exactly what you have been charged for in your bill. This section is broken down by calls, texts, and data.
For example, below is an example of data usage breakdown.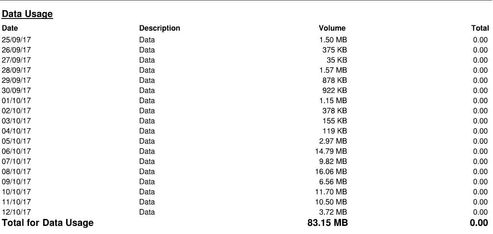 FAQs
How do I pay my bill?
There are lots of ways to pay your Three bill. You can pay via Direct Debit, Online Banking, Credit/Debit Card, by calling 1913 or via the post office. For more info, see How do I pay my bill?
Can I change my billing method?
Yes, simply log into My3, select 'My Details and Preferences', followed by 'Bill Delivery Method' and click 'Edit'.
How can I check my monthly allowance?
You can check your monthly allowance any time, by logging in to My3, and selecting 'See All Allowances' in the 'Top Used Allowances' section. You'll be able to see remaining allowances and any usage outside of your allowance since your last bill.
When is my monthly allowance refreshed?
Your allowances are refreshed on your 'bill date', which is the day your bill is issued. On a paper bill, this date is listed in the top right-hand corner.
How do I change my details?
To change your contact details, including your billing address, log in to My3 and go to My Details and Preferences.
How can I sign up for paperless billing?
To cut down on clutter and save some trees in the process, you can sign up for paperless billing and view your bill online. You can switch to paperless e-billing by logging in to your My3 account. To sign up for paperless billing you will need to set up a direct debit. You'll get a text message each month when your bill is ready.
If you're still unsure of anything on your bill, pop us a PM here or contact us on web messaging and we can help.
You must be a registered user to add a comment. If you've already registered, sign in. Otherwise, register and sign in.