:

:

All About: Prepay Credit

3 Community Manager
Mark as New

Mark as Read

Bookmark

Subscribe

Email to a Friend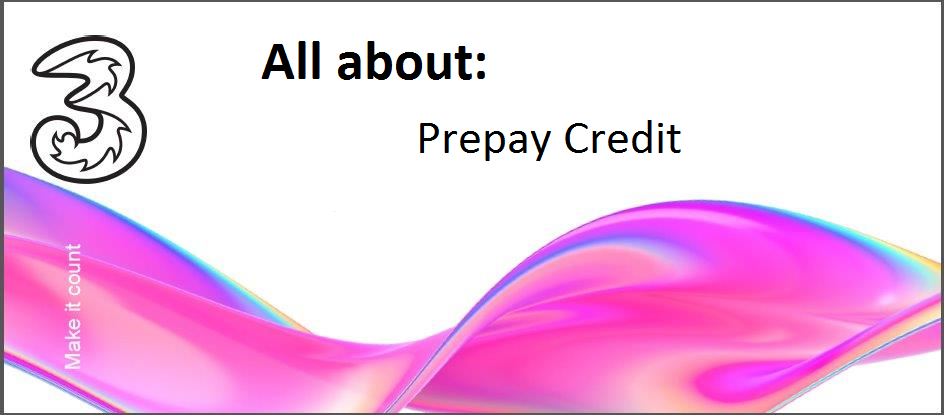 A question that's often posted on 3Community is where has my credit gone? There are many explanations for this, some are obvious – calls, texts or data usage maybe? There are also some that may not often spring to mind straight away so let's take a look at the more uncommon causes of credit depletion below.
The rules vary depending on your price plan so if you don't know your plan name take a look on My3 before continuing.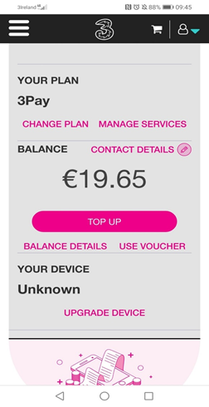 Out of Bundle Usage
Be mindful of what's included in your price plan and what isn't. Even if you have topped up by your required amount to activate your plan you need to keep an eye on your usage in My3 to make sure you don't exceed your allowances. International, premium and roaming usage may also be outside your price plan benefits so be aware of the charges that are set out over here.
Premium Text Messages
Third-party subscription text messages can eat into your credit, so if you have signed up to one of these services but don't want to receive the service any more be sure to unsubscribe by texting STOP to the 5 digit number you receive the texts from if you no longer want to incur the charges. You can find out more about Premium Rate Services on our Premium Rate Services: FAQs blog.
Pay by Mobile Purchases
Pay by Mobile is becoming increasingly popular. Among other things, you can now purchase apps and subscriptions via the AppStore and Play Store and pay with your credit. Have a look at How To: Buy apps using Pay by Mobile for more info and be sure to keep track of your purchases on My3.
Price plan activation
Customers on 3 Prepay 15, 3 Prepay 20 and 3 Prepay 30 will have their credit deducted for all the brilliant allowances of their price plan. So anytime you top up by the minimum amount or greater, your plan reactivates, your credit is deducted and your allowances are extended for 28 days.
If you are on certain legacy plans you will also be charged for your price plan allowance. On BeFree Talk or BeFree Internet you are charged €10, BeFree International is €15 and BeFree Anytime is €30.
Credit Expiry
Did you know that credit can expire? Depending on which plan you're on the rules are different around credit expiry.
For customers on our newest plans, 3 Prepay 15, 3 Prepay 20 and 3 Prepay 30, your credit has a 180 day expiry from the date of your top-up. If the credit is not used within 180 days it will expire and each top-up has its own individual expiry date which you can see on My3.
Customers on any of our legacy BeFree plans will have a 180 day expiry on their top-ups. In addition to this, any new top-up will extend the expiry date for all credit by 180 days. This means that any unused credit will expire after 180 days unless another top-up is applied, which will extend the expiration date of all credit by another 180 days.
If you are on our legacy 3Pay plan things are a little different. When you top-up your account, your credit will remain active and on your balance for 180 days from the date you topped up and each top-up has its own individual expiry date. Where this plan differs is if you make a chargeable call or text from this credit then your 180 days expiry date starts from that time.
Got a question? Your 3Community is always open so search for the info you're looking for and if you don't find it why not start a new topic?
You must be a registered user to add a comment. If you've already registered, sign in. Otherwise, register and sign in.