3 Community Admin
Mark as New

Mark as Read

Bookmark

Subscribe

Email to a Friend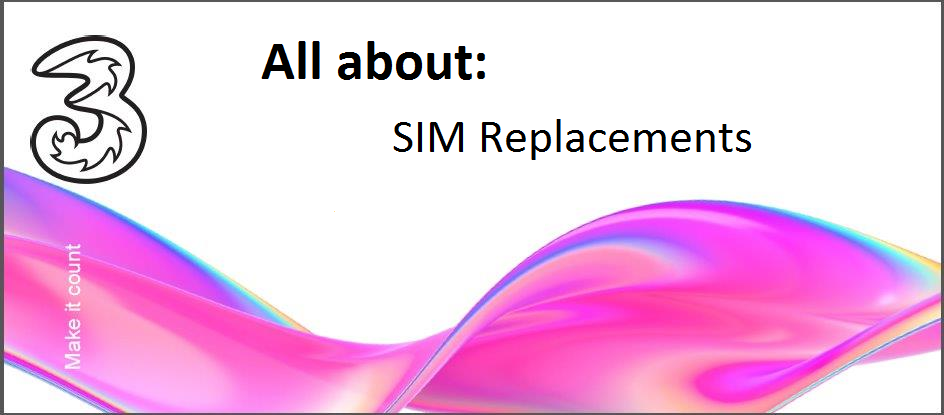 Communications technology is forever changing and our phones with them. Because of this we do tend to get a new phone every two years or so. Have you recently got a new phone? Well then, lucky you 🍀
However, the humble SIM card, the heart of your modern phone, is often overlooked. Let's celebrate the SIM and go through all you need to know about why you might need a new one, how you can activate it, and other wonderful tips. It doesn't matter why you need a replacement SIM card, they're free of charge and you can order online or pick up in any Three store. Just remember to bring ID 👍
Reasons to get a new SIM
1: Sometimes it's just because they get old. Just like any microchip, the circuits become run down and over-used; the plastic material may warp due to the normal heating of the phone or even the heat from the phone being in your hand. We recommend getting a new SIM every 18 to 24 months.
2: If you've recently got a new phone as a present or an upgrade then more than likely it's time for a new SIM. Most new smartphones require a NANO SIM, perhaps you have one in your old phone. Go on, still get a new one. Maybe you have a standard or micro SIM and your new phone is NANO, then you'll definitely need to change the SIM
3: Has to be said; the worst kind of SIM replacements is when you have lost your phone or it was stolen. Before you replace your SIM you should contact us ASAP so we can temporarily bar your number to avoid any unauthorised usage. At this point, we should also stress how important it is to insure your phone
Keep your contacts, videos and photos.
Contacts: First off, do you have an android phone? Then best get your contacts off your old SIM as this is going to be deactivated. You should be able to read the contacts after but it's more likely that you'll lose the old SIM. Android smartphones allow for both importing and exporting contacts from your SIM, however iPhones you can only import from your old SIM. Have a look at the following links to help with your SIM contacts.
Android : https://support.google.com/contacts/answer/7199294?hl=en&co=GENIE.Platform=Android
iPhone : https://support.apple.com/en-ie/HT202340
Back up: There are a few ways to do this and it's all down to a matter of preference. I'm an android user and find that syncing and backing up my phone with my Google account works like a charm. For iPhone users, it's as easy as syncing to the iCloud. Even moving from Samsung to iPhone or any type of phone is a simple task; all the instructions come with your new phone on start up.
Another handy tip here is to connect your old phone to your PC/Laptop and transfer all your photos and videos over there.
You're almost there
Activating your new SIM card on Three couldn't be simpler, just go online to order and activate your new SIM card - click here. (And if you are a business customer, you need to contact our Web Messaging team 7 am - 11 pm, 7 days a week)
There are 3 straight forward steps, including your account type, security questions and contact details. You'll need the long serial number from the SIM card packaging, this will begin with 89 353.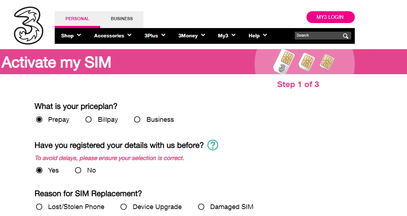 The replacement normally takes 2-4 hours to fully process, and if you request the SIM replacement after 8 pm it won't go through until the following morning. You'll have service on your old SIM until the new SIM is active. In some cases when the service on your old SIM drops, you'll need to restart the phone with the new SIM in it.
Why hasn't my new SIM activated?
Sometimes you might have a typo in your details and this will create an error and your SIM activation won't go through. You will receive a notification of this, and you'll need to try the online form again.
Other times, especially around Christmas and new phone launches, there might be a delay due to the number of requests we get. The length of time can vary between 24-48 hours. But remember, you'll have service on your old SIM until the new one kicks in.👌
Have a different question? Search the Community; it's possible that you'll find your answer there.
If not, start a new topic with your question. Remember; the Community never sleeps 😊
You must be a registered user to add a comment. If you've already registered, sign in. Otherwise, register and sign in.