3 Community Manager
Mark as New

Mark as Read

Bookmark

Subscribe

Email to a Friend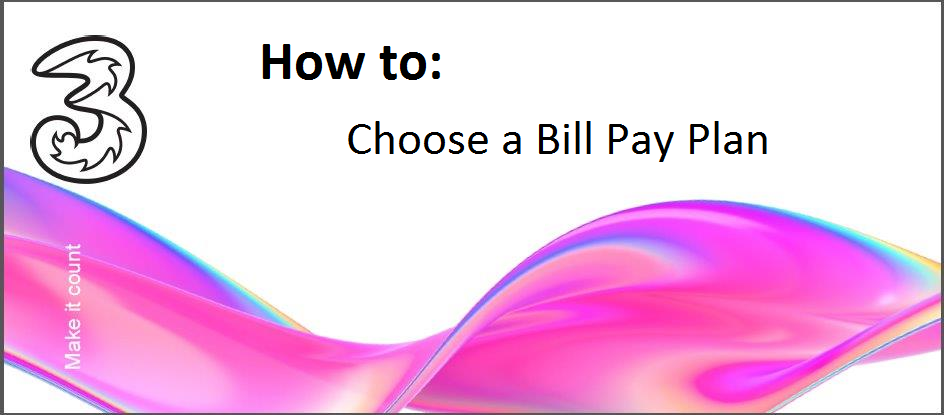 At Three, we've recently launched a fantastic new suite of Bill Pay plans, there really is something for everyone here. In this article, we're going to help you choose which plan would be best for you. So, if you're thinking of changing your current Bill Pay plan or you're ready to make the move from Prepay to Bill Pay then this is the right place for you.
The Plans
First up, our legacy plans. If you're you're currently on one of our older plans and you want to know more about that plan then take a look at our legacy plans over here. Not sure which plan you're on? Take a look at your My3 account and you'll see your plan name on your dashboard in the Your Device & Plan section.
Our new phone plans can be found over here. There are 4 of these plans available – 3 Bill Pay 100, 3 Bill Pay 300, 3 Bill Pay Unlimited and 3 Bill Pay Unlimited Plus ranging from €34.43 per month to €78.70 per month.
These plans come on a 24 month contract and offer a reduction on a shiny new phone.
Interested in SIM Only? We've got you covered. 3 Bill Pay Unlimited SIMO is the one for you if you don't need a new phone right now. Take a look here. If, in the future, you decide you need a new phone then it's very easy to change from SIM Only to a contract plan and avail of a reduction on your phone.
Which plan is best for you?
When it comes to choosing the plan that's right for you there are 3 main things to consider – calls, texts and data. If possible sit down with some recent bills if you're on Bill Pay already or if you're Prepay log into My3 and take a look at your 'Top Used Allowances'
Tip: if you use a lot of data then go for a plan with All You Can Eat Data, watching your favourite boxset on your phone can use at least 1GB and up to 3GB in the space of just one hour.
Changing your plan
You can change up to a higher price plan at any stage in your contract, to move to a lower plan you need to be within the last 90 days of your contract.
The change can be done easily on My3.
From your dashboard select Change Plan under your plan name
On the next screen, you'll be given a list of available price plans, select the one you want and complete the change and there you go, done and dusted!
Family Plans
Three reward families that are on the same bill because we're nice like that 😊
2 family members on the same bill will receive a 10% discount on their monthly commitment while 3 – 6 subscribers will receive a 20% discount off their monthly commitment. Take a look at the eligible plans below:
3 Bill Pay 100
3 Bill Pay 300
3 Bill Pay Unlimited
3 Bill Pay Unlimited Plus
3 Bill Pay Unlimited SIM Only
3 Broadband Unlimited
Anything else?
Want a bit more than what's included in your plan? Take a look at our available add ons over here.
Interest in 5G? Have a look here. Remember you'll need a 5G enabled phone to access the 5G network.
Wondering about other charges like roaming and international? Have a look here.
Got a question? Search the Community; it's possible that you'll find your answer there. If not, why not start a new topic? We'd love to hear from you 👍
You must be a registered user to add a comment. If you've already registered, sign in. Otherwise, register and sign in.