3 Community Admin
Mark as New

Mark as Read

Bookmark

Subscribe

Email to a Friend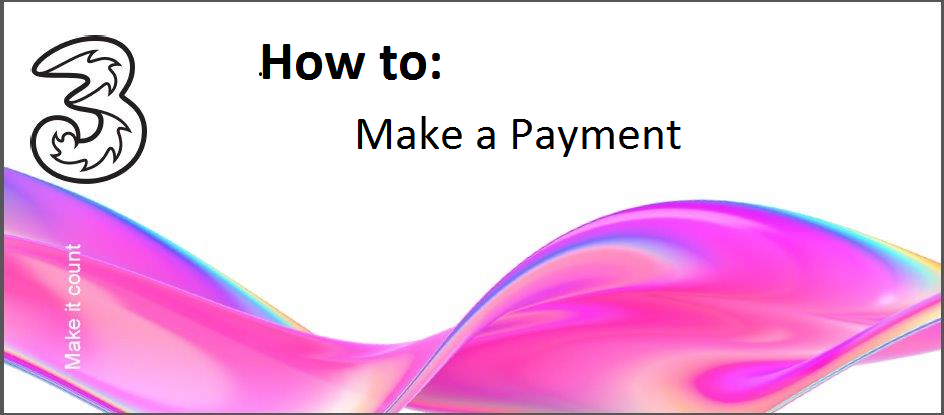 There are lots of payment options on Three so choosing one that suits you is easy. We've listed them below so you make the payment choice that suits you best.
Direct Debit
The hassle-free way to pay! Using your debit details from your bank, set up your direct debit with us so your payments are made automatically from your bank account – simple! If you also opt into eBilling we'll send you a text when your bill is available so you can check it without waiting for it to arrive in the post. By switching to direct debit you can save €4.57 (inclusive of VAT) each month in admin fees. Not set up on direct debit yet? You can set this up quickly through My3. Simply log in and follow the steps below:
My3 App
In the My3 app, select the menu button in the top right corner (this looks like three lines on top of each other). Select "Manage Direct Debit" and then choose "Pay with a Different Payment Method". Enter your details under the "Bank Account" tab and hit Save.
My3 Desktop Site
When you log into My3 via your browser, click on 'Set Direct Debit', which is available on the top left of the screen. From here you will need to select "Use Another Payment Method". Under the Bank Account tab, input the required information, and click Save.
Online Bank Payments
You can use our bank details to set up a standing order payment through your bank or a once-off payment. You will need your Three customer account number and our bank details. Both can be found on your bill TIP: Make sure to allow for three working days for the payment to be processed by your bank.
Pay by Card
Pre-register a credit or debit card and then use this to make payments each time your bill is due. Payment is processed straight away but requires you to call each and every time to make a payment. Setting up your payment by Direct Debit may be an easier option which will give you the benefits of eBilling too. If you use the My3 app or desktop site you can also use your card to pay your bill at any time. Login and click "Pay Now" for the desktop site or "Make a Payment" on the app. Please note if you are set up for direct debit, payments made close to your bill due date may not be communicated in time to your bank and your direct debit will go ahead as normal.
Post Office
You can always pop into your post office and pay your bill. You just need a copy of your bill, they will scan the bar code on the front and you can pay over the counter. This option can be time-consuming so why not set up a direct debit for automatic payments.
Have a question about your payment options, ask us on our Community 😁
You must be a registered user to add a comment. If you've already registered, sign in. Otherwise, register and sign in.