:

:

All About My3 and Bill Pay
All About My3 and Bill Pay

3 Community Manager
Mark as New

Mark as Read

Bookmark

Subscribe

Email to a Friend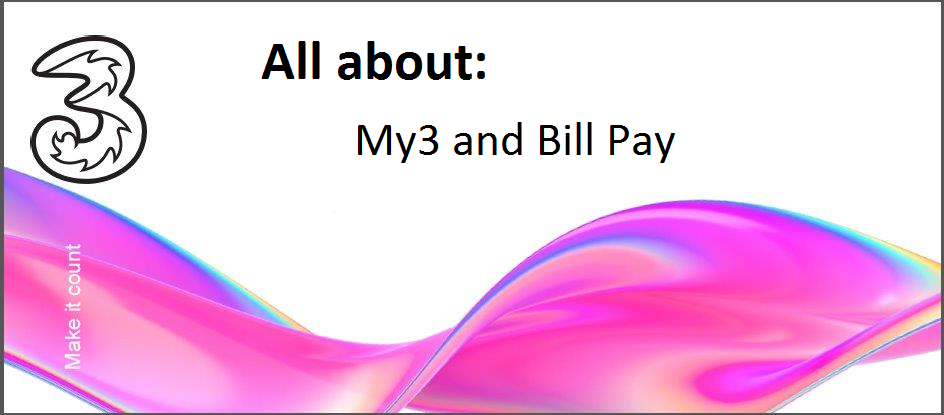 Have you registered for My3 and downloaded the My3 app yet? If not, why not?? You don't know what you're missing out on! Fear not, we're here today to guide you through what an amazing benefit My3 can be to our Bill Pay customers whether you're at home or on the go.
First things first – registration! You'll find a handy step-by-step guide on registering over here. All you need to know can be found in that great article so get cracking! And don't forget to download the app! The below article will answer all your questions about downloading and updating the My3 app.
Now you're registered, what can you do?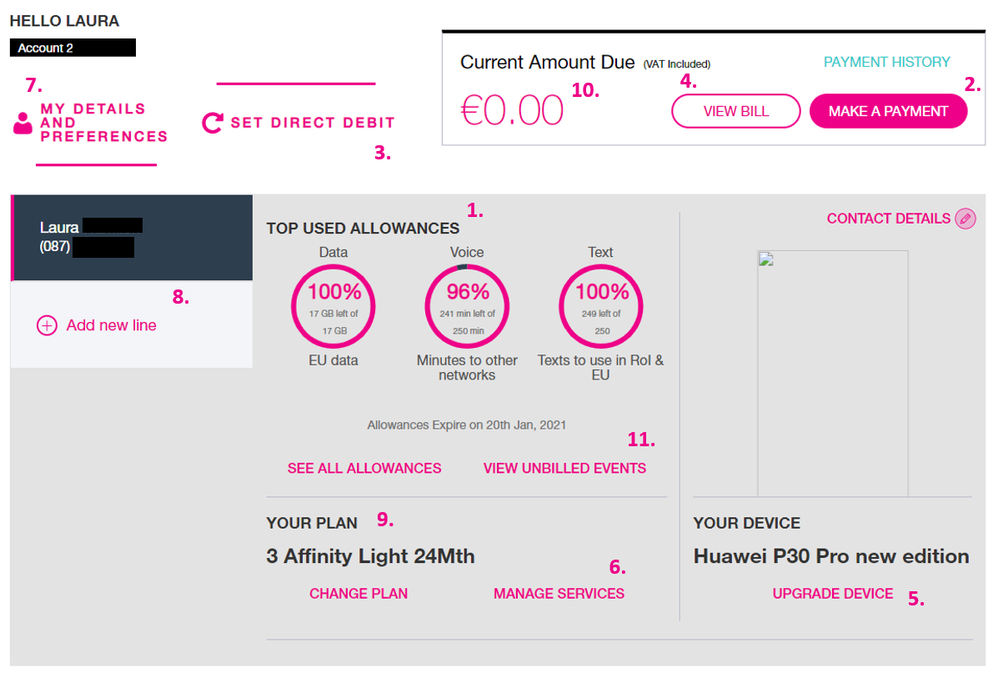 This is your My3 dashboard, we've broken each section down to show you exactly what can be done in each section.
No. 1 - Monitor your usage - You'll see your allowances and usage on your dashboard when you log in, you can't miss it. For more info, click on See All Allowances.
No. 2 & 3 - Pay your bill & Set up a direct debit - Don't have a direct debit set up and want to pay your bill manually? You'll see this option on your dashboard too.
While you're there why not set up a direct debit for future bills? The option is right there are your fingertips.
Already have a direct debit set up and want to change the bank details to a different account? You'll also find this in the 'Set Direct Debit' section.

No. 4 - Check your previous bills - Need to see your last 6 months bills? Have no fear, you can do so on My3! When you click View Bill you're taken to the below screen.
When you click on the little blue arrow beside the date, you'll be given the option to choose which invoice you'd like to view or download. Easy!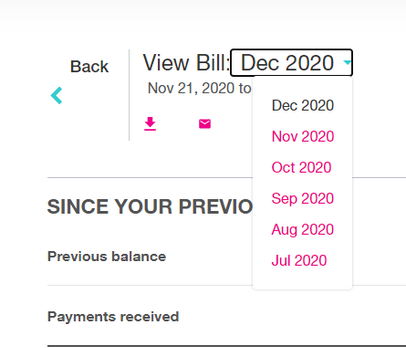 No.5 - Upgrade your phone - Time for an upgrade? You can check this in the Your Device section on your dashboard.
Click 'Upgrade Device' to see if your upgrade is available. If it is then you'll be directed to our online shop to complete your purchase. If it's not you'll be told when to check back. Take a look at All About: Upgrading your Bill Pay Phone for more tips and tricks on upgrading your phone.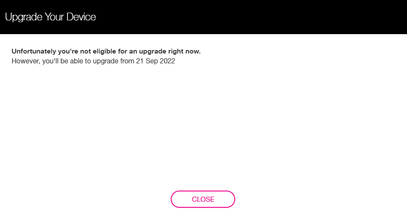 No.6 - Apply an add on - Need more minutes, texts or data? You can also add these in My3 in the Manage Services screen. The add ons available for your particular plan will be available here to select and add to your account.
No. 7 - Change how you receive your bill - Tired of excess paper coming through the letterbox? Why not change to paperless billing so we'll email you to let you know when your bill is available on My3 You'll find this option in the My Details and Preferences section on your dashboard.

My Details and Preferences is also the place to go should you need to update your marketing permissions.
No. 8 - Add another line to your account - Heard of our family plan discount yet? If not, take a look over here. Interested in availing of this fantastic discount? You can add new lines to your account by selecting the 'Add new line' option on your dashboard. From here you'll be directed to the online shop to place your order.
No.9 - Check your current price plan - Wondering what price plan you're on at the moment? You'll see this in the Your Plan section.
Want to change your plan? This is also done in this section. Take a look at How To: Choose a Bill Pay Plan for more info.
Account Users
If you're an account user (not the owner) you'll have the ability to view some of the options above, all the rest will need to be completed by the account owner:
Monitor your allowances (No. 1)
View your own plan (No. 9)
See your account balance (No. 10)
Check out your unbilled usage (No. 11)
There you have it folks. All you need to know about managing your Bill Pay account on My3.
Got a question that you can't find the answer to on our boards or on All About: My3 FAQs? Why not start a new topic? We'd love to hear from you on 3Community.
You must be a registered user to add a comment. If you've already registered, sign in. Otherwise, register and sign in.