3 Community Manager
Mark as New

Mark as Read

Bookmark

Subscribe

Email to a Friend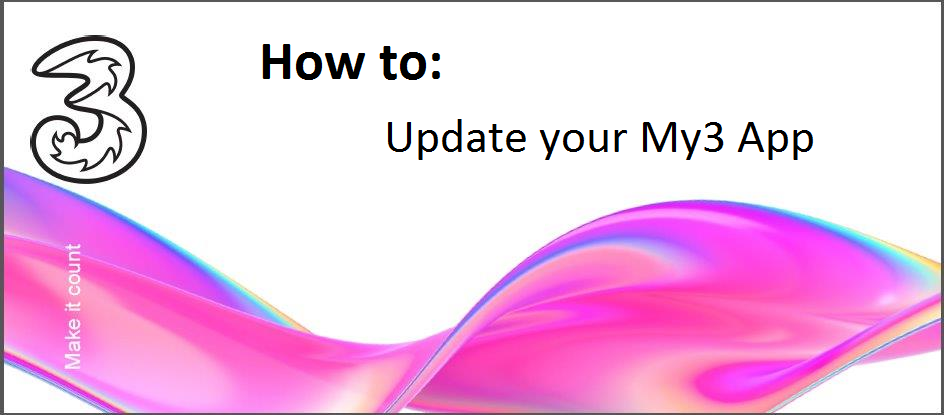 Your apps need to be kept up-to-date with the latest software releases just like your phone. Your My3 app is no different. Today we're going to talk about downloading the app (if you haven't already) and keeping your app up-to-date. The My3 app is available on Android and iOS devices so read on for instructions on both.
My3 Play Store 👉 click here
My3 iOS 👉 click here
Android
Downloading the My3 app couldn't be easier. Use the link above or pop into the Play Store and search for My3. You'll see the below in your search results: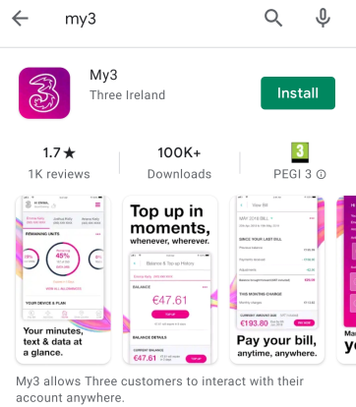 Click install and the app will begin to download.

Once installation is complete the 'Cancel' button will change to 'Open' and you'll see the app on your home screen.

To check if an update is available for an app search for it again in Play Store. If your 'Open' button has changed to 'Update' then a new version of the app is available. This is generally done to release new features into the app or fix a bug that was there previously.

Click on 'Update' to install the update. This will override your current version of the app but the app will stay in the same place on your home screen.
While we're at it, let's clear your data cache from your app. It's no harm to do this every now and again to keep things fresh. This will also clear your saved login details so don't say we haven't warned you 😉 Open your 'Settings' on your phone and go to 'Apps', scroll until you find My3. Click 'Storage' and then 'Clear Data'. Simple!
iOS – Apple Devices
The process on iOS is very similar to the process on Android. Use the link at the top of this blog or open your App Store and search for My3, the one you're looking for is this one: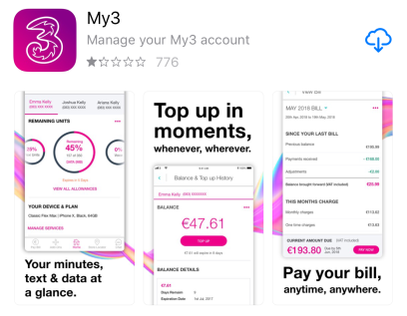 Click on the cloud icon in the right hand corner to install your app. The app will begin downloading:

Once complete, you'll see the 'Open' button and the app will appear in your Home screen.

To update your My3 app on an Apple phone again you need to search for My3 in the App Store. If an update is available you'll see the 'Update' button.

There is no option to clear your data cache on iOs settings so if you need to do this simply uninstall the app and then reinstall it. To do this hold your finger on your app in your home screen until the X appears in the corner. Click the X to uninstall the app. Remember, this will clear your saved login details too!

You can download the app again at anytime by following the steps above.
Now you have a lovely up-to-date My3 app, check out the articles below for info on how to register and navigate it 😊
Got a question? Why not search 3Community, we never sleep. Can't see the answer you need? Feel free to start a new topic, we'd love to hear from you.
You must be a registered user to add a comment. If you've already registered, sign in. Otherwise, register and sign in.