:

:

All About My3 and Prepay

3 Community Manager
Mark as New

Mark as Read

Bookmark

Subscribe

Email to a Friend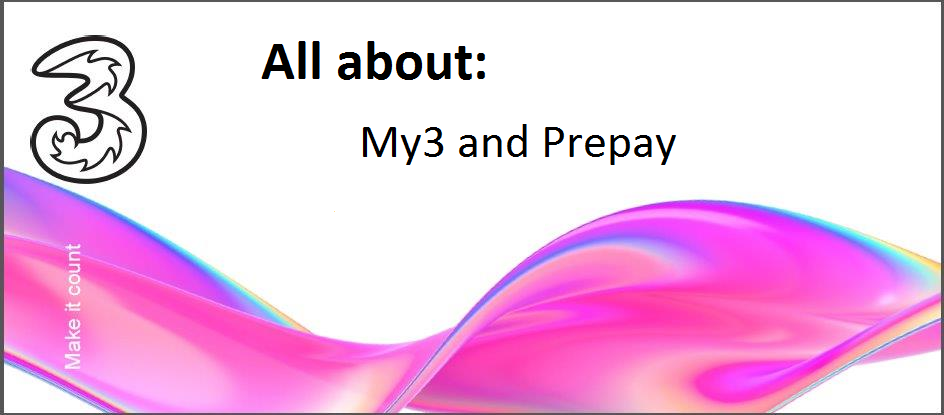 For our Prepay customers, My3 is essential. It will help you manage your account, monitor your usage and price plan and also keep on top of your top-ups.
Not registered yet? Why not? 😃 The below articles will give step-by-step guides on to signing up for this all-important service as well as downloading and updating the My3 app.
Signed up and ready to start exploring? Then let's go! Today we'll go through the options available to Prepay customers on My3.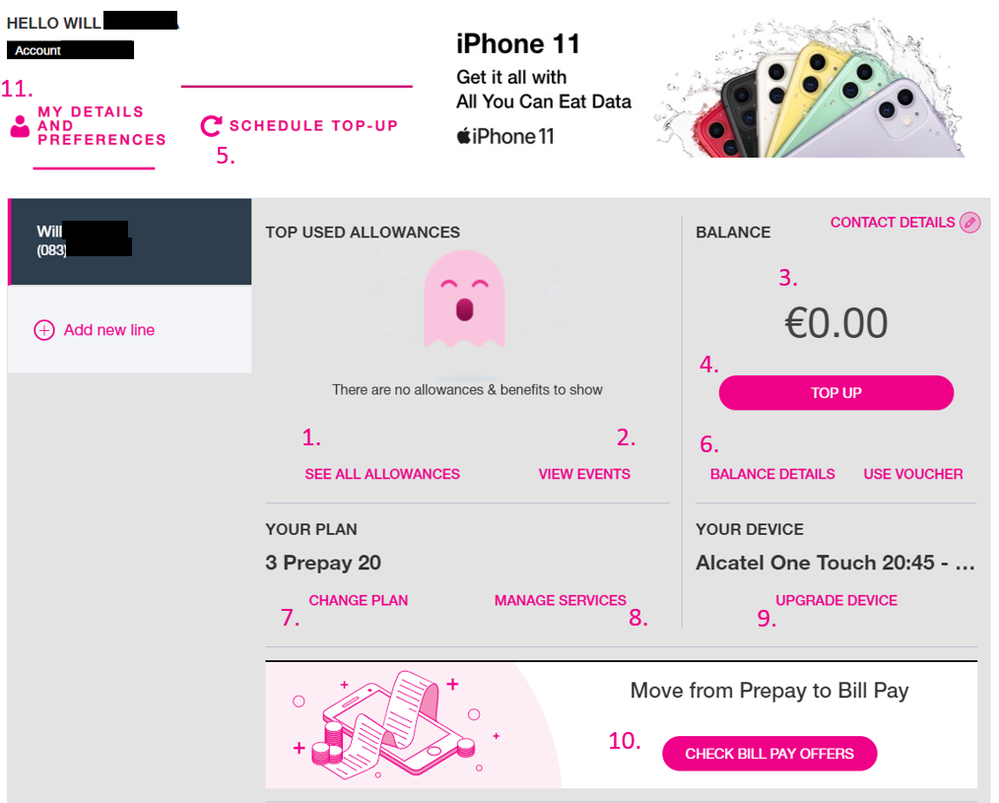 This is your My3 Prepay dashboard, let's take a look at what you can do here:
No. 1 - Monitor your allowances - Got a plan that gives you a certain amount of minutes, texts or data? This is the place to keep an eye on how much you've left.
No. 2 - Check your usage - Need to find a number you called a few weeks ago? View Events is the spot for this.
No. 3 - Check your balance - You'll see how much credit you have leftover here
No. 4 - Top Up - Need to top-up? Click Top Up to use your credit or debit card or if you have a voucher then click Use Voucher.
No. 5 - Schedule a top-up -After you've topped up successfully with your card once you can schedule a top-up. Check out @how to schedule a top-up for more info on this.
No. 6 - Check your top-up history - Need to see your recent top-ups? Balance Details is the place to go.
No.7 - Change your price plan - Looking to change to one of our other price plans? Simply click on Change Plan. Need help choosing a plan? Check out How to: Choose a Prepay plan .
No. 8 - Apply an add on - Want to add a 5G add on? Need extra minutes? Click on Manage Services to see the options available.

No.9 - Upgrade your phone - Time for a new phone? Upgrade Device will get you to where you need to go.
No. 10 - Move to Bill Pay - Tired of topping up and ready to move to Bill Pay? To keep your existing number then you need to begin this process in My3 so click on Check Bill Pay Offers on your dashboard to kick off.
How To: Choose a Bill Pay Plan will also give you some good tips on choosing the plan that's right for you.
No. 11 Edit your personal details and marketing preferences - My Details and Preferences will allow you to change your personal details, addresses and also your marketing preferences.
Got a question about My3 that's not answered here? Check out ourAll About: My3 FAQs or search our Community. Still can't find your answer? Why not start a new topic? The Community is open 24/7 and we love hearing from our members.
1 Comment
You must be a registered user to add a comment. If you've already registered, sign in. Otherwise, register and sign in.