3 Community Admin
Mark as New

Mark as Read

Bookmark

Subscribe

Email to a Friend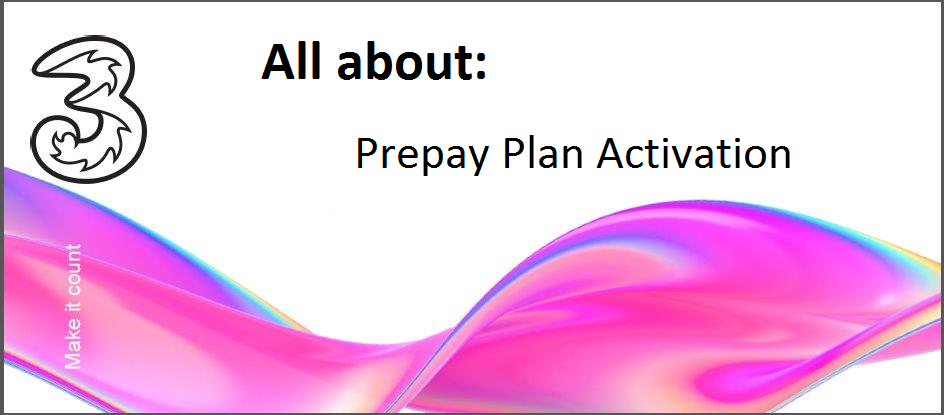 From time to time we get questions around Prepay plan activation. So we've put this blog together to let you know how to activate your plan and answer some other related questions. The main shout out is : our Prepay plans have a 28-day expiry. Go outside of this without topping up and charges apply to calls, texts and data. Simply top-up by the required minimum amount to get your plan back in action.
3 Prepay 15, 20 and 30
This is our newest and current suite of Prepay plans. You decide which one suits you best depending on what you use your phone for. No matter which one you choose, there are no contracts, no commitments. Just top up by your plan amount every 28 days.
These plans are activated by the required top-up amount in one go. So if you've opted in for lets say 3 Prepay 20, when you top-up by a full €20 in one go 👍 In effect you are paying for the plan which means the €20 is deducted and your plan is activated.
Legacy plans
3Pay : The original All You Can Eat Data plan is called 3Pay, with this plan you get Unlimited data, unlimited text to Irish mobiles, unlimited calls to Three customers and 11GB of roaming data. If you have this plan, the minimum required top-up is €20 in one go. Because there is no allowance in this plan to call other networks, these charges are deducted from your balance. Remember that calls to other Irish networks and landlines have a 9 cent set up charge and is 38 cent per minute.
BeFree and Essentials: Way back in the day before All You Can Eat data and when Nokia was king with Motorola not far behind, Prepay plans like Essential and BeFree were what we had to offer. These plans require a minimum top-up of €20 to activate and in some cases €10 to €30 is deducted for the allowance. For more info

👉

click here Now I'm sure there are older legacy plans knocking around, such as Early Bird and Night Owl! But those are well before my time

😎
FAQs on 3Community Prepay board
I topped up by €20 and my balance is zero.
Scenario 1 : For 3 Prepay 20, when you have no previous balance and you top-up €20, this is deducted to active your plan resulting in a zero balance. Rest assured; your plan is working.
Scenario 2 : Let's say you have 3 Prepay 30 as your plan, topping up by €20 will not activate your plan, and if your 28 days have expired more than likely your credit has been depleted by data use. (€1.01 per MB)
I topped up by €20 and my plan hasn't activated ( 3Prepay 20 and legacy plans)
Scenario 1 : Check My3 to see if you topped up by €20 in one go or by two separate €10 top-ups. If it's the latter, then your plan won't activate and if your data isn't switched off, your credit will be depleted on data usage.
Scenario 2 : If you topped up by €20 in one go and you see this in My3, then your plan has activated. You will see your updated allowance in My3 and the expiry date. If you are you calling a number not included in your plan and have zero balance, you will get a notification asking you to top-up. But this doesn't mean your plan isn't active.
Scenario 3 : There may be times that there is a delay in plan activation due to internal systems. Reach out to us to check this for you 👌
My banking top-up hasn't activated my plan (via AIB and BOI facilities)
Scenario 1: From time to time, there can be a delay with banking top-ups and when the credit reaches your Prepay account. If this happens it can take 2-3 working days before your plan is active. If your credit doesn't show up in your balance, please check you bank account and if your transaction is pending, wait until it's showing as completed.
Scenario 2: Your banking top-up transaction is completed and you plan isn't active. Check My3 for confirmation that the top-up came through and your allowances have updated. If not, double check the number you topped-up.
I've topped up but I haven't received a text. Is my plan active?
SMS/Text confirmation of your top-up and/or plan activation might get delayed. The first thing to do here is check your balance. Has your balance increased? If so, your plan is active and if not, reach out to us on our Prepay Help board
Other random but useful tips
You can check you Prepay balance by logging into My3 , app or desktop site. Did you know that you can call 1744 to hear your balance or dial 1745 to see your balance displayed on your screen?
Below are several blogs around Prepay, click and follow to our 3MadeEasy board 👇
All about: All You Can Eat Data with Three Prepay
Can't find your answer? Why not join the conversation and start a topic on our Prepay Help over here
20 Comments
You must be a registered user to add a comment. If you've already registered, sign in. Otherwise, register and sign in.