3 Community Manager
Mark as New

Mark as Read

Bookmark

Subscribe

Email to a Friend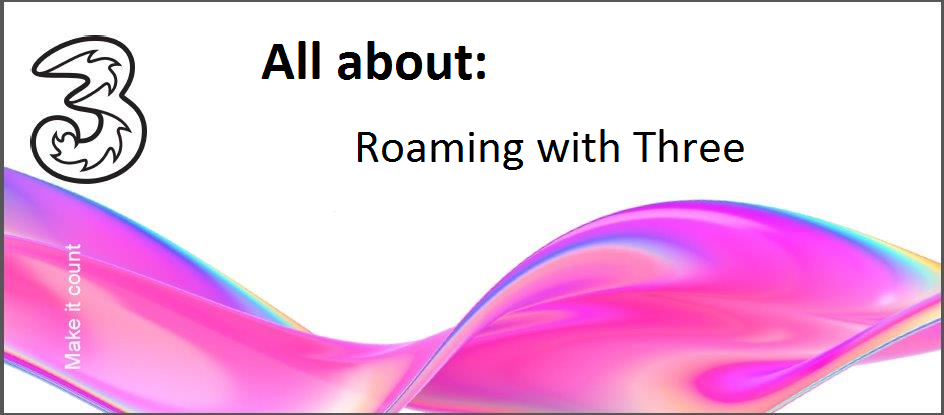 What is roaming?
Roaming is the term used in telecommunications when you use your phone for calls, texts and data outside your home network. In this case, your home network is 3 Ireland.
When you go abroad for either business or pleasure, you'll usually receive a text informing you how much it'll cost to use data, call or text in that country. To make sure you're set up for roaming on your phone and to check the roaming rates where you're headed, read on.
Before you go
First things first: If you have never used your Three phone abroad, reach out to us here on the 3community or our web messaging team to check that roaming is enabled on your account.
Travelling within the EU: Most of our plans include an EU data allowance. If you're not sure how much your plan includes, you can check your roaming allowance on your My3.
Travelling within the UK: Although the UK has left the EU, your EU roaming allowance applies

👍

Travelling outside the EU: Customers can roam in any country that Three has a roaming agreement in, and charges apply to ALL usage. Your data will make a connection straight away to the local network.
For more details about your plan, countries included in your EU roaming, and other international roaming charges, check out our price guides here
When you arrive
Once you've touched down at your destination, your phone will automatically look for and connect to the local network the moment it is switched on. Oh, for data usage, make sure that mobile data roaming is switched on via your phone settings.
Keep an eye on your usage and allowance at any time on your My3 app or desktop site.This will help you stay within your EU allowance and manage non-EU costs.
Need to top up? Use our instant top up service while abroad.
Worried about overspending?
Don't stress, because there is a default limit on data roaming which Three applies to all accounts unless you choose otherwise. The limit is €61.50 (incl. VAT) per monthly billing period or in the case of Prepay plans, every 28-day top-up period. If you've questions about this data limit or wish to change it, simply get in touch with us by PM or Web Messaging.
If you're visiting a country outside the EU and don't want to use up too much data, avoid watching videos, streaming and downloading large files. Where possible use Wi-Fi, and turn off automatic app updates. You can also turn off your data roaming completely.
Tip: Make sure Wi-Fi assist or equivalent is also switched off
When Roaming doesn't work!
This happens, and thankfully not very often 😊 but when it does we're here to help. Have a look at the usual suspects below as these are quick solutions. So you've already checked and done these? Then get in contact with us here on 3Community or Web Messaging to investigate this straight away. We will need answers to "the not so usual suspects", it'd be great if you have them ready for us 💪
The usual suspects
Billpay: Have you used all your roaming allowance and/or reached your credit limit? If yes, you can pay the unbilled amount to reset your credit limit on your My3 app
Prepay: Have you used all your roaming allowance and no credit? If yes top-up again by your plan's minimum required amount to re-start your plan and roaming allowances. Tip – add a little extra for credit.
Have you received a spend alert or reached your data cap? If yes, we can increase your data cap, but remember you've already spent €61.50. Consider the limit you want to spend and sent us a PM or contact Web Messaging
Where possible check your SIM in another phone, does it work? Yes - then check the settings on your own phone

👇
1: Is data roaming turned on? (If it's for internet issues while roaming)
2: Have you tried turning off 4G on the phone?
3: Have you tried to manually select another network on the phone?
If you don't know how to do these, check our Device Support section DeviceSupport
The not so usual suspects
Did you receive your roaming welcome text?.
When was the last time you used your phone outside Ireland?
Have you ever opted out of roaming? Yes, send us a PM and we will opt you back in.
What networks have you tried?
When making calls or sending an SMS, are you using the correct country code, for instance, 00353or +353 prefix?
Want to talk to some-one in Customer Care?
Dial +35383 333 3333 to contact customer care from abroad and remember that roaming charges apply where applicable.
One last thing, enjoy your trip 😎
You must be a registered user to add a comment. If you've already registered, sign in. Otherwise, register and sign in.